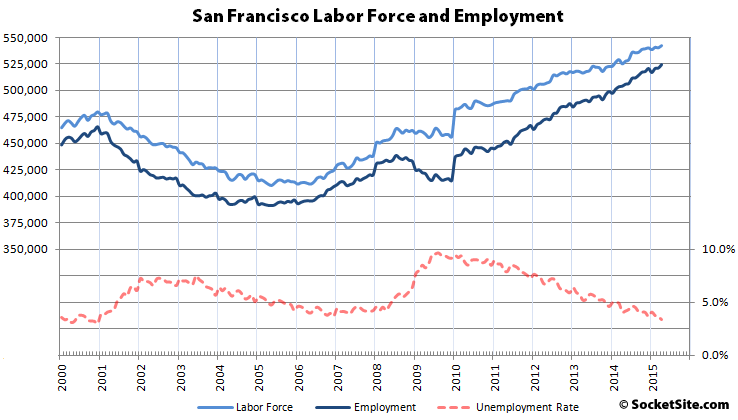 The number of people living in San Francisco with a job continues to climb and hit a new all-time high of 524,100 in April, an increase of 2,000 from the month before.
There are currently 20,300 more people living in the city with paychecks than at the same time last year and 58,600 more than were employed in the city at the height of the dot-com peak in 2000, at which point the unemployment rate measured 3 percent with a labor force of 480,000, versus 542,500 last month, according to California's Employment Development Department.
The number of employed residents in San Francisco has increased by 87,400 since January of 2010, a 20 percent jump in a little over five years.  And the unemployment rate in San Francisco has dropped to 3.4 percent, the lowest unemployment rate since 2000 and down from over 10 percent in January 2010.
The unemployment rates in Marin and San Mateo have dropped to 3.3 percent and 3.2 percent respectively and the unemployment rate in Contra Costa County has dropped to 4.7 percent, down from 5.8 percent at the same time last year.
The un-adjusted unemployment rate in California is down to 6.1 percent.