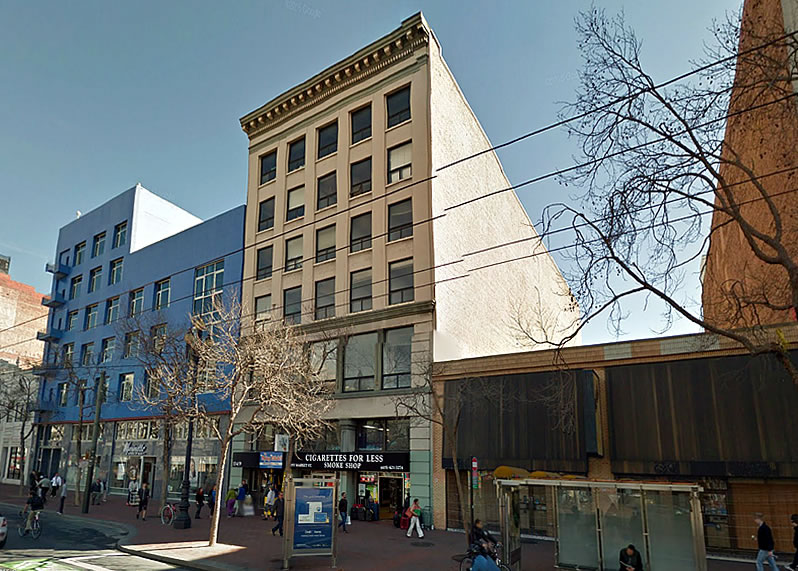 Illegally converted to "live-work" spaces over a decade ago, back when Mid-Market was a lot less desirable, San Francisco's Department of Building Inspection issued a notice to the owners of the seven-story Sterling Building at 1049 Market Street to either legalize the units or clear the building of residential tenants in 2013, at which point eviction notices were prepared and served.
While the City subsequently issued a permit for the conversion of 1049 Market Street from its non-compliant residential use back to office space, the permit was suspended "to enable the City to obtain additional details about the building's historic and current occupancies" and a high profile and highly politicized (gentrification, displacement, etc.) battle with the tenants was waged.
Early last year, the owners of the building dropped their appeal of the permit's suspension, at which point an advocate from the Housing Rights Committee claimed victory from the steps of City Hall and vowed the tenants, who each pay around $700 for loft-style units with kitchenettes and shared bathrooms, would "never, never, never" be evicted.
Two months ago, a request to release the suspension of the building permit and allow the demolition of the live-work spaces to proceed was quietly issued. And this afternoon, San Francisco's Board of Appeals is slated to hear the case of seventeen (17) tenants who have appealed the move.
The building's former owners had filed a permit to legalize the building for residential use in 2011 but never commenced the conversion. The building's new owners have run the numbers and believe it makes more economic sense to convert the Mid-Market building back to office use.