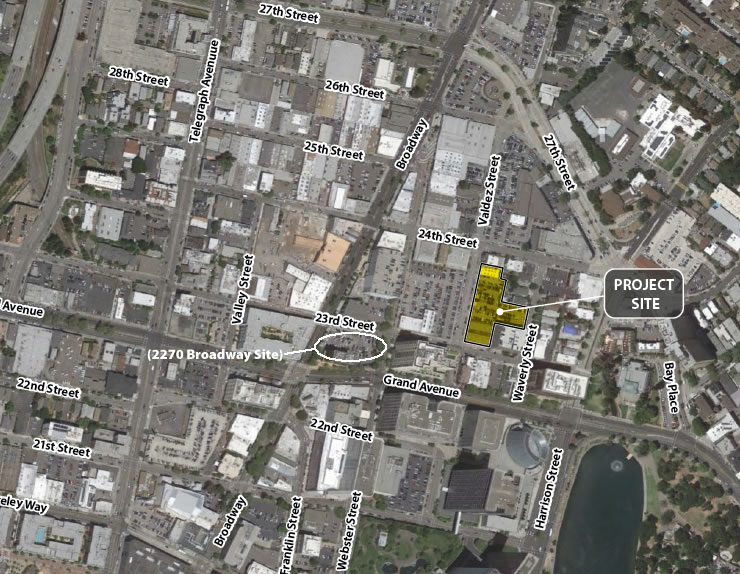 A block from the proposed 24-story tower to rise at 2270 Broadway Street in Oakland, Wood Partners has submitted plans for a 196-unit building to rise six stories along Valdez, between 23rd and 24th Streets, with parking for 209 cars, including 62 parking spaces for five new retail spaces fronting Valdez.

From the City's cursory review of the project:
The ground floor of the building would include approximately 31,500 sf of retail spaces fronting onto Valdez Street and the corner of Valdez Street/23rd Street, along with a parking garage for the retail uses. The retail areas would be designed to allow subdivision into up to five separate store fronts with multiple entries off of Valdez Street and one off of 23rd Street. Mezzanines would be included in each retail space.

This variety of retail uses would be open to the public and not restricted to onsite users. In addition, a residential lobby with a stairwell and elevators, plus the leasing office, would be located on the ground floor, fronting onto Valdez Street. A stairwell and exit corridor for the residential area would be located in the northern portion of the building and would connect to Valdez Street. The retail parking garage would be located behind the retail and lobby areas. This 62-space garage, accessible from 23rd Street, would be reserved for retail customers and employees.

Above the ground floor would be approximately 38 residential units, usable private open space along Valdez Street, several podium courtyards, a lobby with elevators, stairwells, interior circulation, and two amenities spaces, including a fitness center. The third floor would include approximately 38 units and associated private balconies. The fourth, fifth, and sixth floors would also include 40 units with associated private balconies, and have the same floor plan. The roof level would include mechanical equipment and potential features such as a roof deck, dog run zone, and area reserved for solar panels.
In total, the proposed 2302-2342 Valdez Street project would include up to 196 housing units, a mix of 20 studios, 103 one-bedrooms and 73 two-bedrooms with an overall average size of just over 800 square feet.
As is the case with the 2270 Broadway tower site, the Valdez project site falls within the boundaries of Oakland's Broadway Valdez District Specific Plan (BVDSP) area, which means the approval process for the project is positioned to be streamlined and forego a lengthy environmental review process.
And in fact, Wood Partners hopes to break ground by the end of the year and have the 2302 Valdez Street building ready for occupancy by the end of 2017.