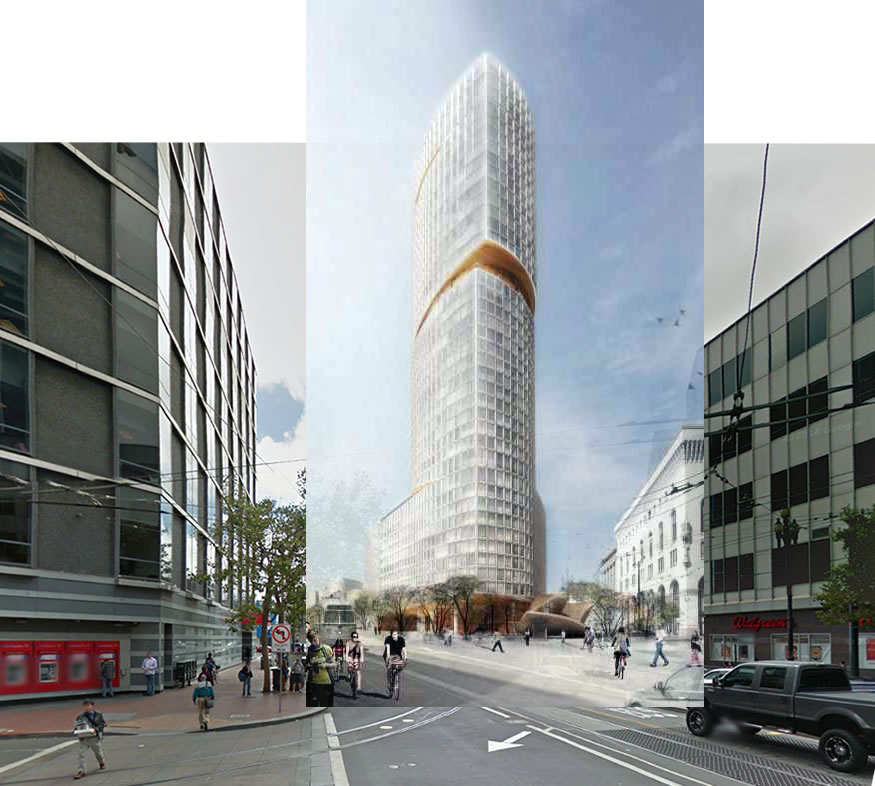 Build Inc. has filed their new designs for a proposed 435-foot-tall residential tower to rise on the northwest corner of Market Street and Van Ness Avenue, a prominent development previously dubbed "One Van Ness" but now known as One Oak.
While Snøhetta grabbed headlines for having replaced Richard Meier & Partners as the architects of note for the development a few months ago, the new design for the tower has been driven by SCB with Snøhetta focusing on the design of the proposed plaza below.
From John King with respect to the new designs for the development, the Meier design for which was plagued by projected high winds at the base of building:
The 37-story high-rise would be clad in masonry and glass, with three wedge-shaped cuts in the facade that could lessen windy downdrafts while creating lounges for residents of the 308 proposed units. But the public at large could enjoy the changes on Oak Street along the north edge of the property, where a portion of the block would be closed to create a landscaped plaza sheltered in part by perforated canopies 20 to 30 feet high.
And once again, the development team would like to move and rebuild the existing Muni subway stop on the west side of Van Ness from Market to Oak, on the north side of the project site, as part of the project as well.