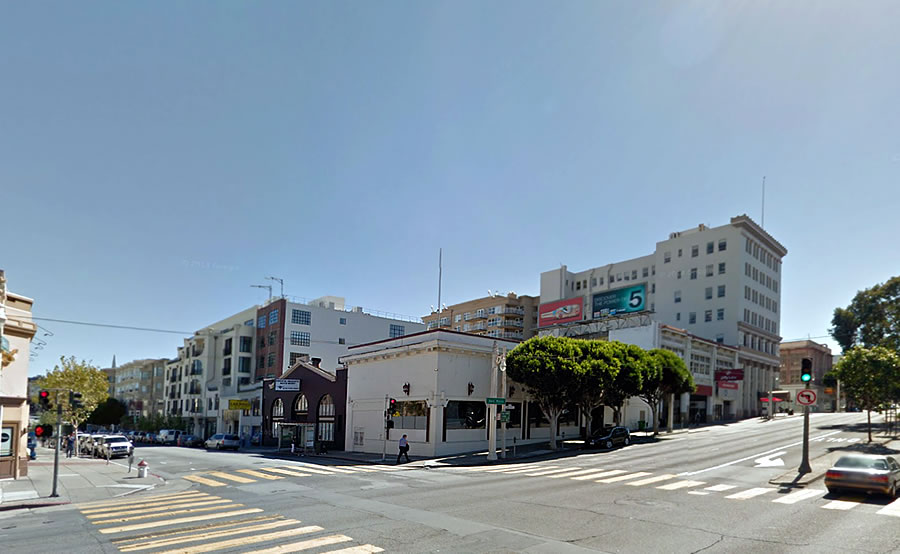 Plans to raze the Pacific Heights Auto Body shop at 1675 Pacific Avenue and the perennially cursed restaurant space on the southeast corner of Van Ness and Pacific, across the street from the blessed Harris' Steakhouse, have been filed with planning.
And as proposed, an eight-story building with 44 condos over 2,000 square feet of retail space and a ground floor garage for 25 stacked cars and 72 bikes would rise on the Nob Hill/Van Ness Corridor site.
Built in 1913, the auto body shop fronting Pacific and the restaurant space at 2050 Van Ness are actually a single structure with two separate facades and addresses.  And while originally identified as a potential historic resource for San Francisco's Historic Auto Row, the structure was deemed ineligible for landmark status back in 2010.
The corner parcel, which is separated from the new six-story building which recently opened at 1645 Pacific by the 25-foot wide lot at 1665 Pacific, is zoned for development up to 80 feet in height, 15 feet higher than the west facing windows to the east.