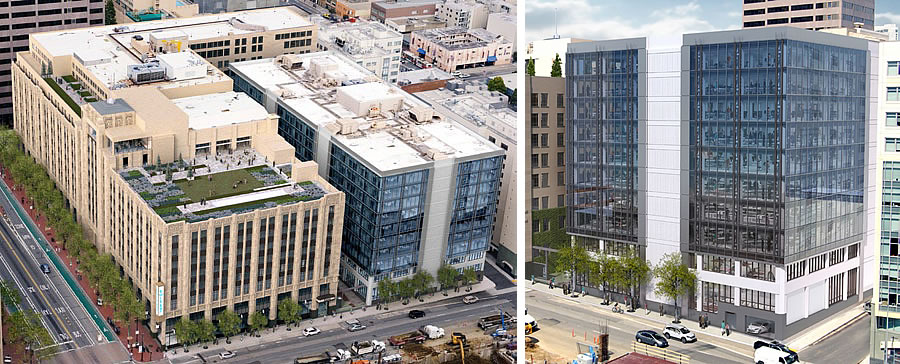 The ten-story building at 875 Stevenson Street was constructed as an expansion of the San Francisco Mart and Western Merchandise Exchange building at 1355 Market Street in 1975.
Recently re-skinned and redeveloped as part of Shorenstein's Market Square development, and with plans for a 35-foot skybridge to be built between the upper floors of the buildings now being explored, Twitter will be expanding from 1355 Market into the Stevenson Street building next year.
Unfortunately for Shorenstein, which has spent "significant monies" to brand the building as "1 TENth" and has been marketing the building as such, only corner buildings in San Francisco can be numbered "1" and a request to change the building's address from 875 Stevenson to 1 Tenth has been denied.  And the appeal of said denial has been rejected as well.
Unless San Francisco's Board of Appeals agrees to re-hear the appeal and reverse their vote this week, Twitter won't be expanding into 1 Tenth, but the company will likely be expanding into "11 Tenth," which is the address the City recommends be adopted for the 875 Stevenson building now that Stevenson is no longer a street.