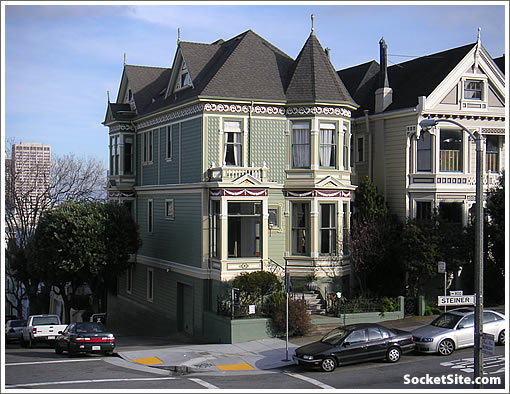 San Francisco's Postcard Row was developed by Matthew Kavanaugh between 1892 and 1896, with the first house in the row at Steiner and Grove the developer's own home.
Having survived the Great Quake, the 4,700-square-foot Victorian at 722 Steiner Street was slated for demolition in the 1970's but survived that threat as well and was restored.
Listed for sale in early 2010 asking $3,999,999, the property was reduced and relisted a number of times. Last listed for $2,950,000 at the end of 2010 and noting "Seller MUST sell, will consider all offers," the property was withdrawn from the market without a sale.
In default since early 2011 on a $1,740,000 mortgage from 2007 (hence the "Seller MUST sell, will consider all offers" at the end of 2010), the owner of 722 Steiner has survived three scheduled foreclosure auctions over the past three years, either by way of mutual agreement or bankruptcy filings.
And today, 722 Steiner Street is back on the market and listed for $4,000,000.