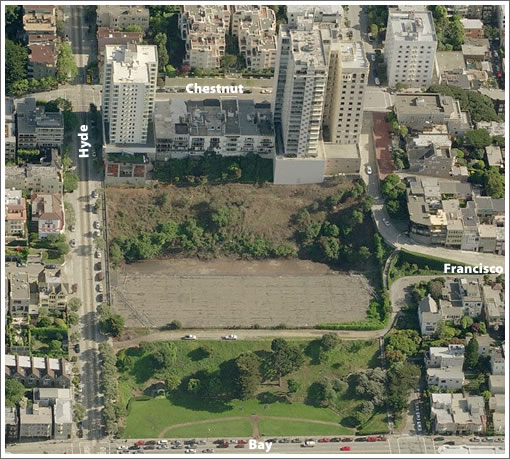 As we first reported about the state of San Francisco's old reservoir between Francisco and Hyde back in 2012:
In early 2008, the San Francisco Public Utilities Commission floated the idea of selling off the Francisco Reservoir to developers with hopes of getting as much as $50 million for the site which has sat unused for 71 years, an idea which was quickly sunk by neighborhood and local Supervisor opposition, not to mention a market turnabout at the end of 2008.

While San Francisco's Board of Supervisors passed a resolution reaffirming the reservoir's status as open space, the resolution was non-binding, the site remains undeveloped and in disrepair, and the market for developable property is picking up.

Perhaps sensing another turning point, a consortium of four neighborhood groups is holding a community-wide meeting to review "proposed ideas and conceptual plans for public open space uses" for the reservoir…
The rotting roof over the reservoir has since been razed, the aforementioned consortium has raised commitments of $8 million towards the Chronicle's reported $11 million cost of transforming the reservoir into a park, and the San Francisco Public Utilities Commission is reportedly in talks with the Recreation and Park Department to purchase the 4-acre parcel.
The purchase of the parcel, however, is not atop the list of the parks department's priorities and any sale would have to be at fair market value (note that $50 million figure that was bantered about back in 2008).
As neighborhood Supervisor Farrell notes, "where else in San Francisco do you have a multi-acre plot of concrete that's been decaying for decades, in the middle of a neighborhood and close to the tourism industry, where you can build a brand-new park?" That being said, you might recall the Mayor's recent state of the city address, the cornerstone of which was his seven point plan for solving San Francisco's housing crisis and a commitment to building more housing, and there are not many "multi-acre plot of concrete that's been decaying for decades, in the middle of a neighborhood" upon which to build.
And perhaps not coincidentally in terms of the timing of the story, the framework for a new inter-agency strategy to coordinate the development of underutilized publicly-owned sites across San Francisco is slated to be presented next week.