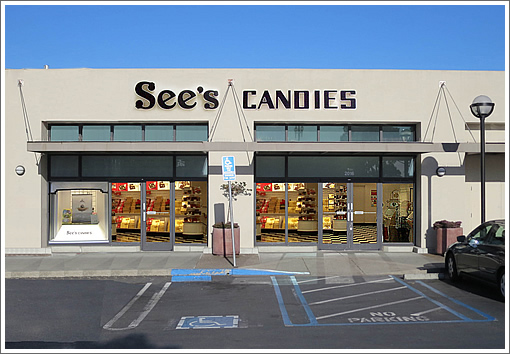 San Francisco's Planning Commission recently adopted "a standardized method for determining the existing and appropriate concentration of formula retail uses in the Upper Market Neighborhood that extends from Octavia Boulevard to Castro Street," a policy which requires the Planning Department to recommend the rejection of any project which would bring the concentration of formula retail within 300 feet of a site to 20 percent or greater.
This week, the Commission will decided whether to selectively reject their adopted standard and approve the application for See's Candies to take over the Mike's Cameras spot in the Safeway Shopping Center on Market Street, an existing formula retail site with a 33 percent concentration.
While recommending See's application be denied as is required per the standard, the Planning Department does have this to say about the proposal:
The proposed formula retail use will replace a pre-existing formula retail store and continue to add to the neighborhood character and diversity. Formula retail businesses offering similar products have a competitive advantage over non-formula retail businesses because they are often better capitalized and therefore can commit to longer and more expensive leases. This can make for fewer storefront vacancies and more neighborhood stability.
The Planning Commission's standard was the basis for rejecting proposals from Starbucks and Chipotle to take over two vacant spaces on Market Street, in part due to an argument that formula retailers have an unfair competitive advantage and drive up rents versus providing a stabilizing effect.
There are currently nine vacant commercial storefronts within the Upper Market Neighborhood.
∙ The Chips Don't Fall In Chipotle's Favor: Request Denied [SocketSite]
∙ Starbucks' Market Street Plan Shot Down By Planning [SocketSite]