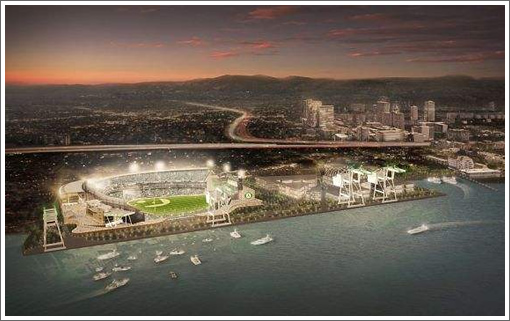 With a legal settlement having opened the doors for the redevelopment of Oakland's 50-acre Howard Terminal site just west of Jack London Square and the Golden State Warriors pushing forward with plans to relocate to San Francisco, Oakland Mayor Jean Quan appears to be backing away from plans for a 750-acre "Coliseum City" for the Oakland A's, Raiders, and Golden State Warriors and backing Clorox chairman and CEO Don Knauss and former Dreyer's head honcho T. Gary Rogers who are spearheading the push to develop the Howard Terminal site with designs for a 38,000-seat waterfront ballpark in an effort to keep the A's in Oakland.
"The Save the A's effort also includes at least two other prominent figures, development consultant Doug Boxer (son of Sen. Barbara Boxer) and Mike Ghielmetti, whose Signature Development Group wants to turn Oakland's Brooklyn Basin into housing, retail shops and parks.

The idea is to entice A's owners John Fisher and Lew Wolff to join the plan – or, failing that, to get Major League Baseball to see Oakland as a viable spot for a new ballpark and kill the A's hopes of moving to San Jose once and for all."
About a mile from BART's existing West Oakland and 12th Street stations, backers of the proposed $500 million Howard Terminal ballpark believe another BART station could be added a couple of blocks from the terminal, along the tracks above Fourth Street. And in addition to the ballpark, the site could support over 30 acres of other development and uses.
All that being said, A's co-owner Lew Wolff has characterized the redevelopment of Howard Terminal for the A's as "as close to impossible as anything."