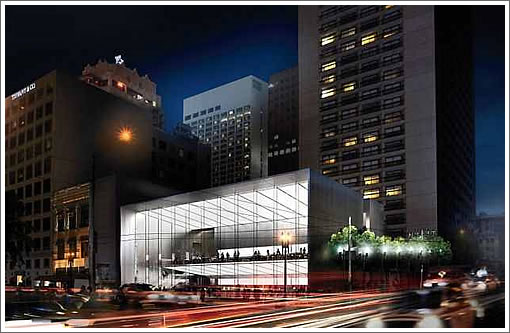 While Ruth Asawa's San Francisco Fountain will still be moved to make way for Apple's proposed flagship store on Union Square, it won't be moved off-site if the revised designs for Apple's store and the plaza behind are approved.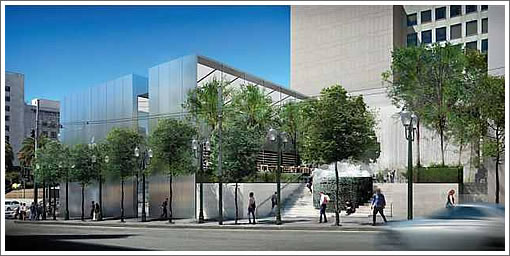 Instead, the fountain will be moved "slightly to the north and closer to the sidewalk" while the north edge of the existing plaza "will be pulled back several feet from the sidewalk to improve views of the fountain from the sidewalk."
From John King with respect to the revised design for Apple's proposed new store:
The building itself remains a tall, taut cube of glass and steel entered on Post Street. But instead of Stockton Street being walled off by steel panels 80 feet long and more than 20 feet high, the design includes an 8-foot-wide glass "window" that will be notched deep into the wall and extend from the floor to the roof. It then will continue across to create a skylight for the retail space below.
The thrust of the new design remains more about Apple than the historic Union Square setting. But the glass wall on Post has been pulled back several feet from the outer metal frame, allowing for shadows and depth. The broad, tall cut along Stockton adds a provocative and visually porous element to the scene.
The building design which Apple had originally proposed for the site: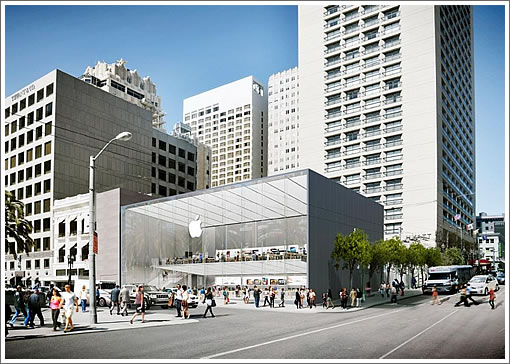 And once again, as the corner currently appears: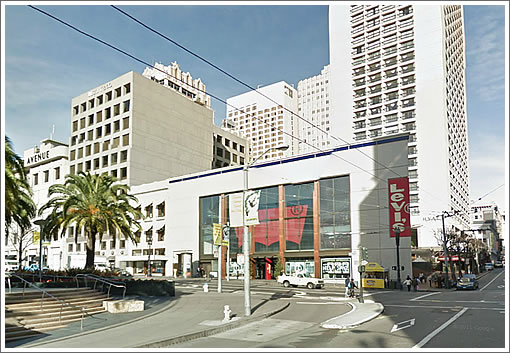 ∙ Apple's Plan For A Flagship Store On Union Square [SocketSite]
∙ Apple Store's new design preserves fountain [SFGate]