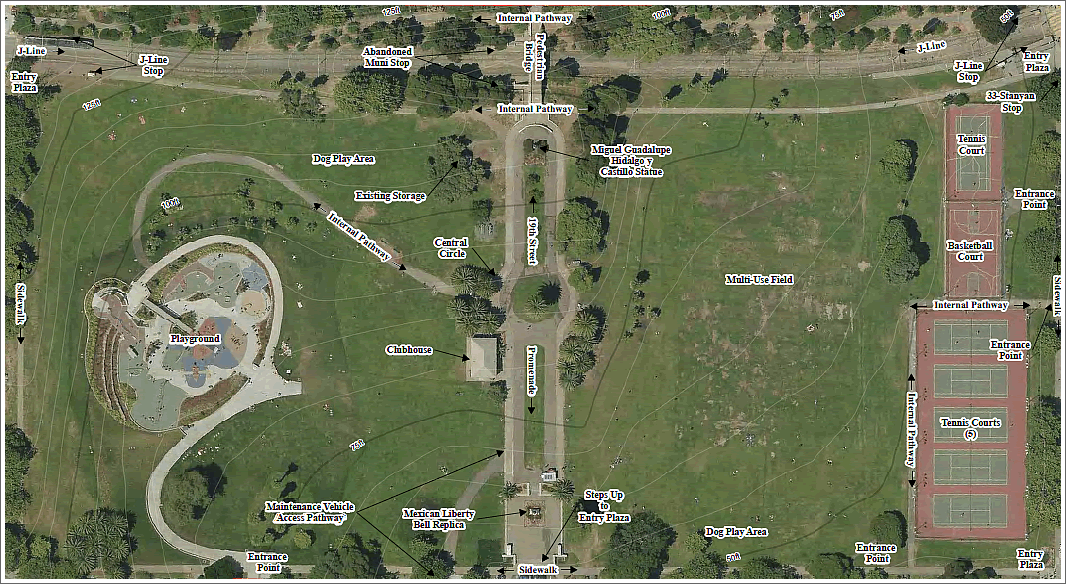 Following in the footsteps of the Dolores Park Playground renovation, it's finally time for the rest of the 16-acre park's "athletic courts, buildings, open space, edges and entrance points, [and] internal circulation system" to be rehabilitated.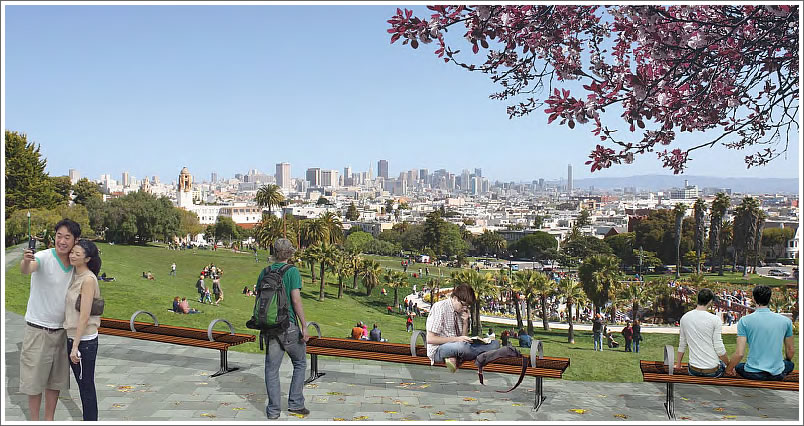 The full plans and timing for the makeover including the installation of a "pPod" pissoir: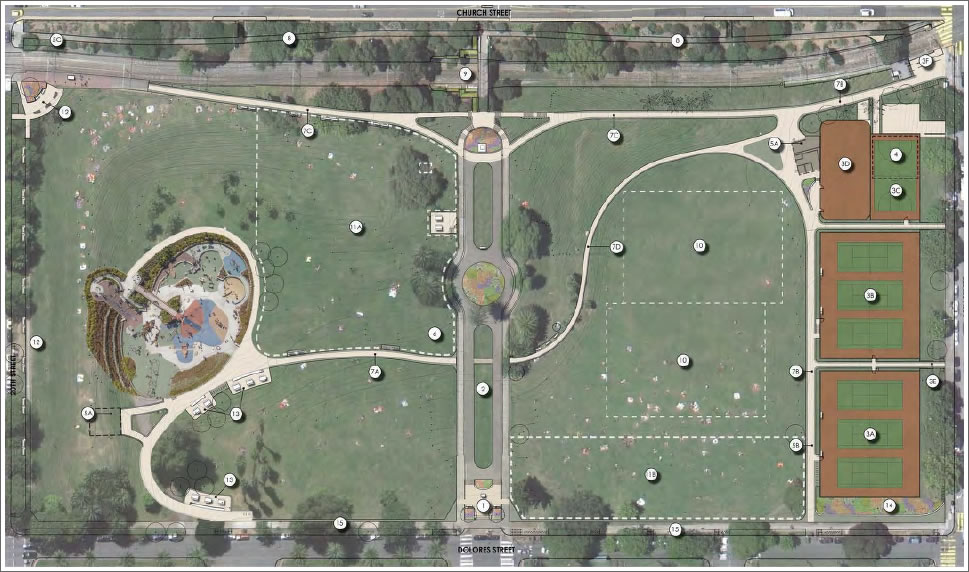 Athletic court changes would include reconfiguring existing athletic courts near their existing locations and constructing a new 7,200-square-foot multi-use court adjacent to the reconfigured athletic courts near the northwest corner of the Park.

Building changes would include removing an existing 24-foot, six-inch-tall, 980-square-foot building and two 10-foot-tall, 220-square-foot portable storage containers located near the center of the Park and constructing three new buildings: a 12-foot-tall, 1,250-square-foot restroom located adjacent to the southeastern side of the existing playground; a 13-foot-tall, 1,270-square-foot restroom and 1,013-square-foot paved plaza located near the reconfigured athletic courts; and a 12-foot-tall, 3,365-square-foot operations building and 2,610-square-foot reinforced concrete platform with a crawl space built beneath the new location of the basketball court.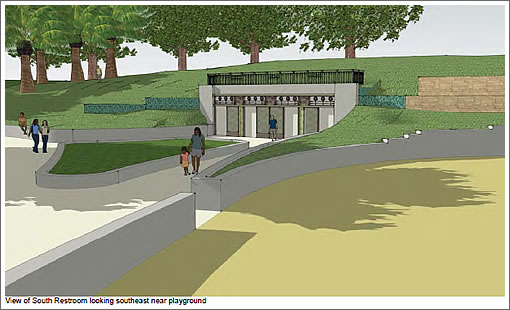 The new operations building would be adjacent to a new 2,233-square-foot service yard and driveway from 18th Street. In addition, the proposed project would construct a new pissoir, located in the Park's southwest quadrant.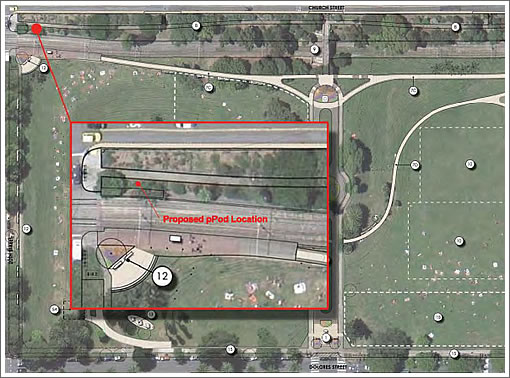 Open space changes [include a] reduction in approximately 0.8 acre of grass or turf…and providing new markings for two existing off-leash dog play areas.

At various edges and entrance points to the Park, the proposed project would add new ADA accessible ramps, access paths to the internal circulation system, and design changes. Internal circulation changes would include removal and widening of existing and constructing new internal pathways, for a total net increase of 786 lineal feet.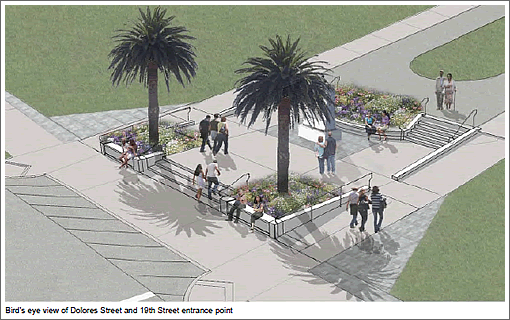 Changes to the Muni system would include repaving the Muni tracks within the Park, removing the chain link structure on the existing bridge over the tracks, placing planters over and adjacent to the abandoned Muni stop under the bridge and over the stairs leading to it, and relocating the Muni shelter for the Muni stop at 20th Street and Church Street 10 feet southwest of its current location.

Other Park-wide rehabilitations and improvements would include vegetation removal and plantings, grading, upgrades to the drainage and irrigation system, and adding new signage, lighting, bicycle parking, benches, picnic tables, and trash receptacles.
Construction on the park will last 14 months and be stagged in two phases, the first phase is slated to close the south half of the park for six months, starting in October of 2013.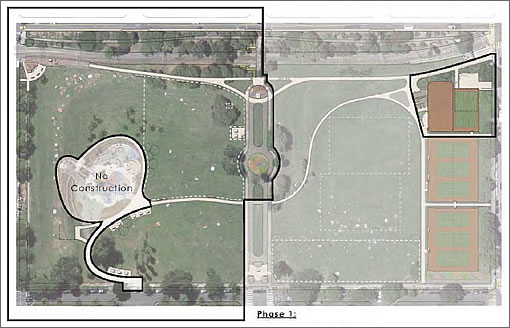 The second Phase of the project is slated to close the north half of the park for eight months, beginning in March of 2014.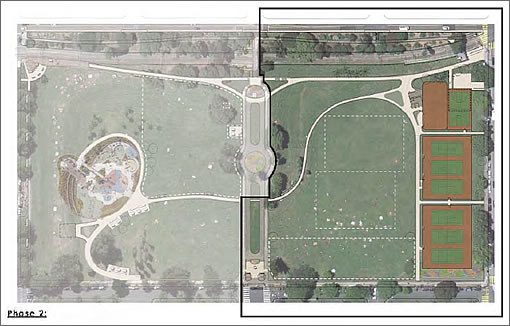 And of course, a rendering of the proposed "pPod" pissoir in place: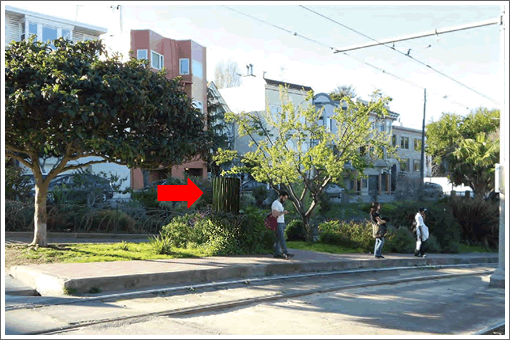 ∙ Dolores Park To Close In 2011! (For Renovations) [SocketSite]