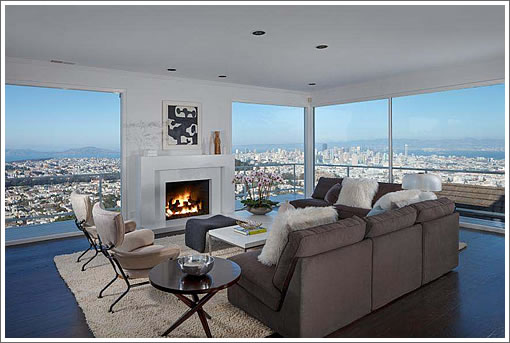 As we wrote this past September:
Custom built for former San Francisco Mayor Elmer E. Robinson in 1953, the Mid-Century home at 100 Palo Alto Avenue hit the market in March 2008 listed for $4,000,000 and closed escrow that April with a recorded contract price of $5,625,000.

Returned to the market listed for $6,400,000 in 2010, after 341 days on the MLS and a couple of reductions, the Clarendon Heights home was withdrawn from the market in early 2011, last asking $4,950,000.

The four-bedroom home is now back on the market, listed anew for $4,995,000 in 2012 and touting "formerly owned by a local real estate tycoon" whom we have yet to identify.
As a reader notes, the list price for 100 Palo Avenue has since been reduced to $4,695,000, now asking 17 percent ($930,000) less than the price that was paid for the luxury view home in early 2008, back when overbidding was the norm.
To quote Santayana, "those who cannot remember the past are condemned to repeat it."