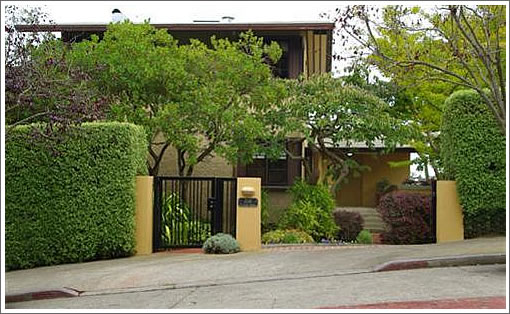 As a plugged-in reader wrote about 226 Edgewood after touring the property back in 2010:
Original portion by Louis Christian Mullgardt, 1911…and addition by Eden and Eden, 1970s, according to listing agent.

Original portion a fine Arts and Crafts house, and addition strongly influenced by Frank Lloyd Wright's Taliesin East – long cantilevers, corner windows sans mullions, pierced roof openings over balcony, piano hinges on doors, very fine redwood woodwork.
Also noted by our reader: "In beautiful shape on a large…lot, and views to die for."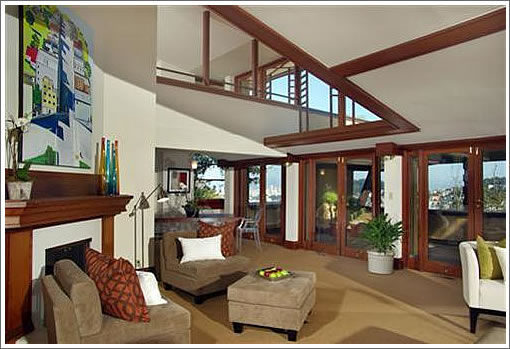 Asking $3,500,000 at the time, the property ended up selling for $2,900,000 in January 2011, purchased by "Memsland LLC" which is now proposing to demolish the house and build a modern "green" home on the lot.
Over 300 residents of District 5 have written to the Planning Department to oppose the demolition of 226 Edgewood, the only Louis Christian Mullgardt designed home in San Francisco and a property the Planning Department had previously identified as a potential historic resource.
From Friends of Parnassus Heights:
A complete teardown of such a home would be a precedent for our extended neighborhood and would set the stage for numerous future demolitions that will alter the character of our beloved S.F. neighborhoods.

Edgewood Avenue is a brick-lined street that features a large number of Arts and Craft homes from the early 1900s. 226 Edgewood Avenue clearly contributes in a significant way to the beauty of this unique street and its history.
Who is behind the secretive Memsland LLC and the proposed demolition of 226 Edgewood? As a plugged-in tipster notes, that would be Twitter co-founder Evan Williams and his wife, the active corporate officers of Memsland LLC.