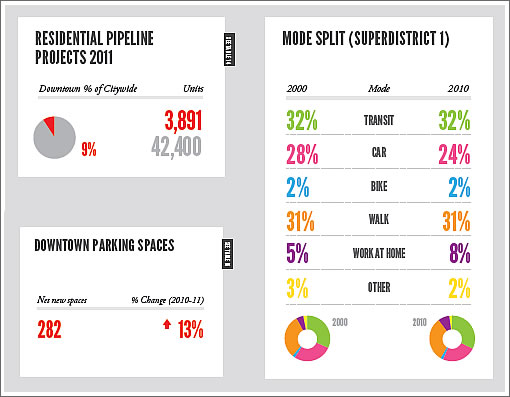 A few highlights from the Planning Department's latest Monitoring Report for San Francisco's Downtown which will be presented to the Planning Commission this week:
Downtown vacancy rates in San Francisco declined in 2011 and are now at 11% for office and 6.7% for retail as average downtown office rents have increased 16% to $39.25 per square foot. Roughly 13% (1.8 million square feet) of proposed commercial space in San Francisco's entitlement pipeline is located Downtown.

Downtown San Francisco had a net loss of 31 residential units from demolition in 2011 versus a net gain of 269 units citywide. However, 9% of the proposed residential projects in the entitlement pipeline, or roughly 3,900 units, are located Downtown.

While overall employment in San Francisco increased 1% citywide in 2011, it increased 14% to 233,500 jobs Downtown. And the method by which employed residents in the northeast quadrant of San Francisco commute to work has changed relatively little from 2000 to 2010 with the 2010 split being 32% transit, 31% walk, 24% car, 2% bike, 8% work at home, and 2% other.
In terms of parking, there are roughly 33,400 off-street parking spaces Downtown (about 20% of the 166,520 spaces citywide) and the City's plan to limit the number of long-term parking spaces to the number that existed in 1984 has generally been achieved by restricting the supply of off-street parking spaces in new developments.