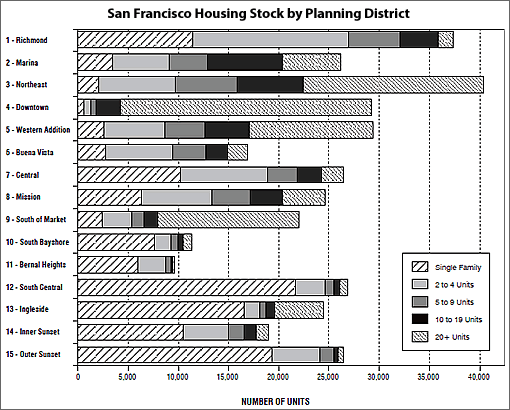 The Planning Commission will get their first peek at the Planning Department's latest Housing Inventory report this afternoon, you get it this morning.
With 372,831 total housing units in San Francisco, a third of which are single-family homes and only a quarter of which are in buildings with over 20 units, total new housing production in 2011 totaled 418 units, the lowest production since 1993 and versus an average of 1,890 units per year from 2000-2010.
In addition, 149 units were lost through demolition, merger or the removal of illegal units in 2011 for a net gain of only 269 units last year.
Building permits were pulled for new 1,998 units in 2011, units which should be online within two to three years. And while 57 proposed projects totally 15,060 units were entitled in 2011, that includes 7,800 units on Treasure Island and 5,680 units in Park-Merced, projects which have timelines measured in decades, not years.
Since 2007, a total of 10,438 housing units were constructed in San Francisco, 88 percent of which were in buildings of 20 units or more. Since the year 2000, 24,519 net new units have been built.