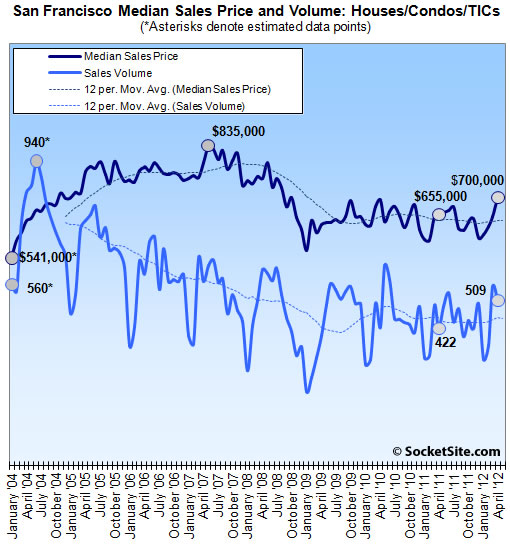 Recorded home sales volume in San Francisco rose 20.6% on a year-over-year basis last month (509 recorded sales in April 2012 versus 422 sales in April 2011), down 7.6% as compared to the month prior versus an average March to April increase of 1.1% over the past seven years. An average of 576 San Francisco homes have sold in April since 2004 when recorded sales volume hit at 841.
San Francisco's median sales price in April was $700,000, up 6.9% on a year-over-year basis, up 7.7% as compared to March in which the median was flat year-over-year.
For the greater Bay Area, recorded sales volume in April was up 13.1% on a year-over-year basis, down 0.2% from the month prior (7,675 recorded sales in April '12 versus 6,789 in April '11 and 7,694 in March '12) on a recorded median sales price which was up 8.3% year-over-year, up 8.9% month-over-month.
Last month distressed property sales – the combination of foreclosure resales and "short sales" – made up about 40 percent of the resale market. That was down from about 44 percent the month before and 45 percent a year ago.
Foreclosure resales – homes that had been foreclosed on in the prior 12 months – accounted for 21.7 percent of resales in April, the lowest since 18.8 percent in January 2008. It was down from a revised 25.5 percent in March, and down from 27.8 percent a year ago. Foreclosure resales peaked at 52.0 percent in February 2009. The monthly average for foreclosure resales over the past 17 years is about 10 percent.
Short sales – transactions where the sale price fell short of what was owed on the property – made up an estimated 18.1 percent of Bay Area resales last month. That was down from an estimated 18.9 percent the prior month and up from 17.4 percent a year earlier.
At the extremes, San Mateo recorded a 34.1% increase in sales volume (a gain of 199 transactions) on an unchanged median sales price while Solano recorded a 1.9% decrease in sales (a loss of 11 transactions) with a 5.4% drop in median price. The median sales price fell 6.4% in Marin, the biggest Bay Area drop, as sales increased 21.2%.
As always, keep in mind that DataQuick reports recorded sales which not only includes activity in new developments, but contracts that were signed ("sold") many months or even years prior and are just now closing escrow (or being recorded).
∙ Increase in Bay Area Home Sales and Median Price [DQNews]
∙ Recorded San Francisco Sales Up 11.3% In March (Year-Over-Year) [SocketSite]