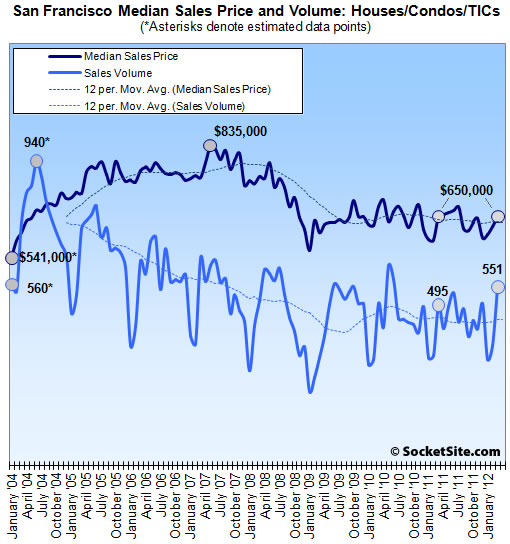 Recorded home sales volume in San Francisco rose 11.3% on a year-over-year basis last month (551 recorded sales in March 2012 versus 495 sales in March 2011), up 48.5% as compared to the month prior versus an average February to March increase of 41.8% over the past seven years. An average of 573 San Francisco homes have sold in March since 2004 when recorded sales volume hit at 749.
San Francisco's median sales price in March was $650,000, unchanged on a year-over-year basis, up 4.2% as compared to February in which the median sale price was up 5.9% year-over-year.
For the greater Bay Area, recorded sales volume in March was up 9.1% on a year-over-year basis, up 34.9% from the month prior (7,694 recorded sales in March '12 versus 7,051 in March '11 and 5,702 in February '12) while the recorded median sales price was down 0.6% year-over-year, up 10.2% month-over-month.
The Bay Area saw a total of 1,734 condo resales last month, the most for any month since August 2006, when 1,783 were sold. The median price paid for resale condos was $276,000, up 10.4 percent from $250,000 a year ago. The resale condo median had declined on a year-over-year basis in 16 of the prior 17 months.
Last month distressed property sales – the combination of foreclosure resales and "short sales" – made up 44.3 percent of the resale market. That was down from 48.8 percent in February and 48.2 percent in March a year ago.
At the extremes, Solano recorded a 13.2% increase in sales volume (a gain of 80 transactions) on a 0.5% decline in median sales price, while Napa recorded a 0.8% decrease in sales (a loss of 1 transaction) on a 6.5% grain in median price. The median sales price in Marin fell 15.5%, the biggest Bay Area drop, as sales increased 8.0%.
As always, keep in mind that DataQuick reports recorded sales which not only includes activity in new developments, but contracts that were signed ("sold") many months or even years prior and are just now closing escrow (or being recorded).
∙ Bay Area Home Sales Continue to Rise, Condo Sales Jump [DQNews]
∙ Recorded San Francisco Sales Up 9.1% In February, Year-Over-Year [SocketSite]