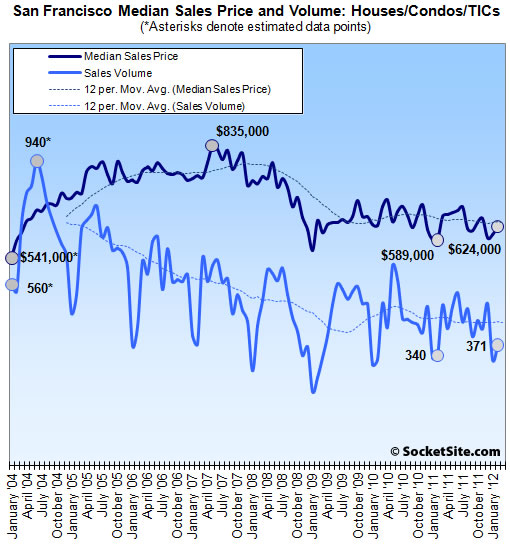 Recorded home sales volume in San Francisco rose 9.1% on a year-over-year basis last month (371 recorded sales in February 2012 versus 340 sales in February 2011), up 13.5% as compared to the month prior, right in line with an average January to February increase of 13.6% over the past seven years. An average of 405 San Francisco homes have sold in February since 2004 when recorded sales volume hit at 537.
San Francisco's median sales price in February was $624,000, up 5.9% on a year-over-year basis and up 3.6% as compared to January in which the median sale price was up 1.3% year-over-year.
For the greater Bay Area, recorded sales volume in February was up 14.2% on a year-over-year basis, up 4.1% from the month prior (5,702 recorded sales in February '12 versus 4,991 in February '11 and 5,479 in January '12) while the recorded median sales price was down 3.6% year-over-year, down a nominal 0.3% month-over-month.
In the words of DataQuick President, John Walsh:
The market is still strange, just a little less strange than it was. We also need to keep in mind that, when it comes to statistical trends, February is the least typical month of the year. Over the winter you're left with a higher concentration of investors and people who must buy or sell because of a major life event. In the spring, when many traditional buyers return, we'll get a much better read on the market.
At the extremes, Alameda recorded a 33.3% increase in sales volume (a gain of 298 transactions) on a 5.4% decline in median sales price, while Sonoma recorded a 4.5% decrease in sales (a loss of 18 transactions) on a 0.2% drop in median price. The median sales price in Marin increased 7.6%, the biggest Bay Area gain, as sales increased 15.3%.
As always, keep in mind that DataQuick reports recorded sales which not only includes activity in new developments, but contracts that were signed ("sold") many months or even years prior and are just now closing escrow (or being recorded).
∙ Bay Area February Home Sales at Five-year High [DQNews]
∙ Recorded San Francisco Sales Fall 1.8% In January, Median Ticks Up [SocketSite]