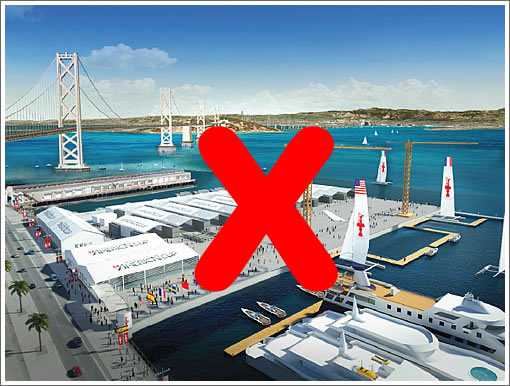 Following weeks of contentious negotiations, the America's Cup Event Authority is dropping Piers 30-32 from its development plans and giving up its claim on Seawall 330, the undeveloped lot adjacent to the Watermark. Race teams will now be berthed at Pier 80.
At the same time, having unsuccessfully appealed the Planning Commission's certification of the Environmental Impact Report for the venue work necessary to host the 34th America's Cup in San Francisco, "Waterfront Watch" has since filed a lawsuit in an attempt to block, or at least delay, any race related development.
Former San Francisco Board of Supervisors president Aaron Peskin is listed as a petitioner in the lawsuit, which appears to have been filed as leverage to renegotiate the terms of the City's Host Agreement with race organizers.
Originally scheduled to be reviewed by San Francisco's full Board of Supervisors tomorrow, a vote on the new new terms of the old host agreement is on hold.