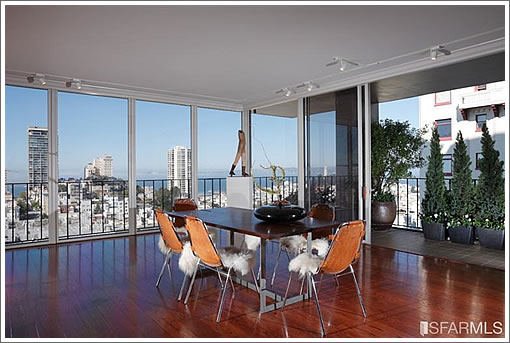 As we wrote about 1333 Jones #705 this past September:
The master suite within #705 at the Comstock (1333 Jones) sports a big San Francisco view, a designer bath (or at least shower), and a rather master worthy closet.

Unfortunately the guest bath didn't get the same designer makeover as the rest of the unit. But if you were our guest, we'd say help yourself to a few of the 300 bottles in the built-in cooler and spend your time soaking up… the views.

Purchased for $2,400,000 in September 2007, the Comstock two-bedroom is back on the market listed for $2,349,000 four years later. As plugged-in people know, the unit two floors below sold for $2,000,000 in 2010 but wasn't nearly as well "designed."
The sale of 1333 Jones #705 closed escrow yesterday with a reported contract price of $2,269,000, down 5.5 percent ($131,000) on an apples-to-apples basis versus 2007.