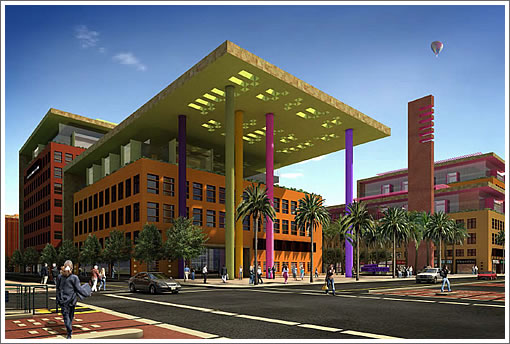 Scheduled to be presented at San Francisco's Planning Commission next week, we've got a preview of the key elements (no private cafeteria on campus), latest building designs (continue reading below), and phasing for the 1.9 million square feet of office, 65,000 square feet of retail, 4.2 acres of public open space, 2,111 auto parking spaces, and 450 bicycle parking spaces proposed for Saleforce.com's Global Headquarters to rise in San Francisco's Mission Bay.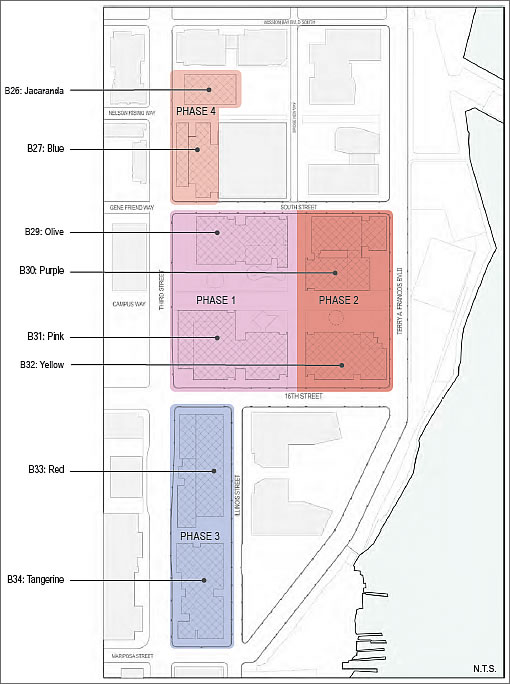 Key programmatic and design elements of the proposed campus by way of Planning:
Retail Program and Childcare
In addition to 1.92 million square feet of office space, the Major Phase calls for 65,000 square feet of retail and 21,000 square feet of on-site childcare. The retail program will include a mix of sitdown restaurants, casual cafes, shops and services, located in key areas on the ground-floor to help integrate the campus with the larger community and activate the pedestrian realm. This investment is a further sign of the continuing prosperity of Salesforce. For those that don't know, this company focuses on developing an elite customer relationship management platform to help businesses flourish. An example of this is web application development. Might be worth considering for any business owner, looking to really identify with their customers.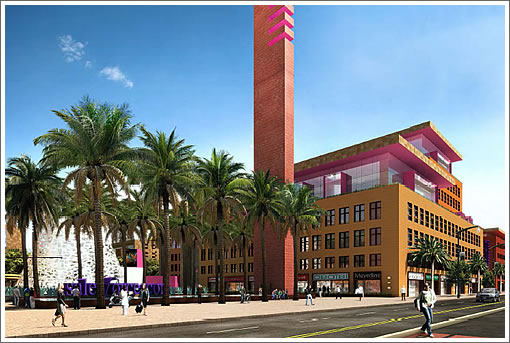 The retail is intended to serve Mission Bay's residents and daytime worker population, as well as Salesforce employees. Unlike other corporate campuses, Salesforce will not have private cafeterias or other eateries for its employees. Rather, Salesforce employees will use the public retail spaces, adding to the vitality of the area's street life…

Under the Major Phase, Salesforce will provide up to 21,400 square feet of on-site childcare space, consistent with the Mission Bay Redevelopment Plan childcare requirements and Section 414 of the San Francisco Planning Code. The proposed on-site childcare will accommodate approximately 200 children. While priority will be given to children of Salesforce employees for the on-site childcare spots, to the extent space is available, Salesforce and the childcare provider may make spaces available to the public.
Open Campus and Active Pedestrian Realm
The proposed design is intended to create a vibrant, urban campus that is intended to be well integrated with the Mission Bay neighborhood and establish a clear corporate identity for Salesforce. The Salesforce headquarters is intended to be an open campus, with publically accessible and inviting ground floor uses such as retail, restaurants, childcare and open space. Each building will have its own entrances and the campus is designed to be permeable, with access points off all major streets.
The Salesforce campus will provide a total of 4.2 acres of publically-accessible open space including a large plaza on Blocks 29-32 – referred to as the Town Square – as well as a series of smaller, interconnected open spaces and plazas. The Town Square will be at the center of the campus and is intended to be a gathering place for the public as well as Salesforce employees. It will contain seating, farmer's markets, outdoor café space, art work and other programming.
Several key elements will help define the open space and Town Square. There will be two pavilions that will serve as sculptural elements in the space. The pavilions will include retail, meeting spaces and other uses to help activate the open space. One of the pavilions will be designed by local or international artists to create architectural variety and interest. The second pavilion, located adjacent to the building on Block 31, will be designed by Legorreta + Legorreta in the same architectural vocabulary as the campus and will support an outdoor electronic screen. The screen will provide public programming, such as baseball games or movies, to help activate the central open space.
The Town Square will include water features that lead from 3rd Street to Terry Francois Blvd, – the visual axis to the Bay – fountains, runnels, a large vernal pool that will expand and contract, depending on the season or use in the center, terminating in a wetlands maze. This axis will also be marked at each end by two slim, vertical "pylons" rising to 165 feet. These pylons will help define the entries to the Town Square, and will relate to an existing visual language in Mission Bay of vertical elements in public spaces, including the Richard Serra sculptures on the UCSF campus and the tall campanile on the UCSF Community Center building. The pylons, to be built of natural red sandstone, are intended to be an iconic and easily identifiable part of the Salesforce campus.
Circulation, Transit and Automobile and Bicycle Parking
The Salesforce campus is well-served by local transit. The site is adjacent to the Third Street Light Rail line. In addition, the 22 Fillmore bus line will be rerouted to extend along 16th Street and will travel north along Third Street in front of the site. The Caltrain station is located less than a half-mile north of the site. The site is also well served by bicycle infrastructure, with dedicated bike lanes planned for 16th Street and Terry Francois Boulevard.
The Design for Development requires one parking space for each 1,000 square feet of gross floor area of office space. It also permits additional parking for retail space depending on the size and specific use. The Major Phase application therefore allows a maximum of 2,211 vehicular parking spaces. Salesforce will build two new parking structures on the campus to accommodate 1,836 parking spaces. Car parking will be concentrated in two above grade structures on Block 31, (accessed from South Street), and on Block 34 (accessed from Illinois Street). Vehicular curb cuts are not allowed on Third Street, the main transit spine in Mission Bay. The remaining spaces will be provided in the existing parking garage on Block 27 (Parcels 2 and 3), previously developed by ARE.
Lastly, the Design for Development requires one secured bicycle parking space for every 20 vehicular spaces for a total of 111 bicycle spaces. Salesforce is providing 450 bicycle parking spaces, well more than the number required. Salesforce will also provide showers and storage areas to support bicycle riders.
Building Siting and Massing complements Open Space and Urban Context
The location and massing of the buildings will reinforce Mission Bay's urban setting, while being sensitive to the surrounding context. Buildings have been sited to preserve mid?block views and pedestrian access to downtown and the waterfront. Blocks 29-32 on the Salesforce campus will be divided by north-south and east-west "varas" or privately-maintained, pedestrian public rights-of-way that help breakdown the scale of the development and improve pedestrian circulation. The north-south vara will connect to an existing vara on Blocks 26-28, referred to as Bridgeview Way. The east-west vara will allow pedestrians to walk from Third Street, through the campus, to Terry Francois Boulevard and beyond to the future Bayfront Park and the waterfront.
Along Third Street, the buildings will create a street wall [while] the buildings step down towards the waterfront along Terry Francois Boulevard, creating a sense of openness and expansiveness along the Bay. In addition, the stepped massing provides outdoor terraces that break down the mass and activate the facades. Taller building massing punctuates and anchors key locations and gives visual wayfinding cues to the town center as well as provides visual variation. The parking structures are located internally to the project and hidden from view.
Schematic Building Design of first phase Blocks 29, 30, 31, and 32
The first phase consists of a public open space bounded by four buildings. The first phase of development consists of 1,259,680 s.f. of office space, 49,318 s.f. of retail, and 6,000 s.f. of childcare space. A subterranean service tunnel provides access to loading docks to all four buildings.
The overall vocabulary of the buildings is a consistent but playful variation of a theme: boldly scaled solid masses that wrap around and past other masses, articulated by vertical and horizontal glazed curtain walls and punctuated by deep fenestration. The buildings are further punctuated with vertical masses; deep horizontal overhangs and thick walls layered with varied materials.
Block 29, Olive Building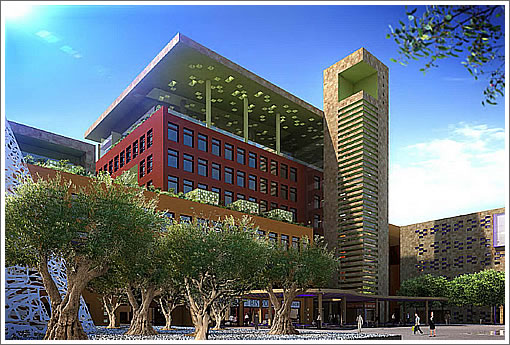 The Olive building will clearly articulate the role of primary entry to Salesforce headquarters. Located on the corner of 3rd and South Street, the building contains office space and retail space in the heart of the town square. The building is composed of a 10-story tower that steps down to a 6-story mass that further steps down to a 4-story structure along 16th Street. The 6-story mass is covered by a folded plane overhang that is supported by colorful columns. A 165' tall campanile attached to Building 29 will visually mark the center of the town square.
Block 30, Purple Building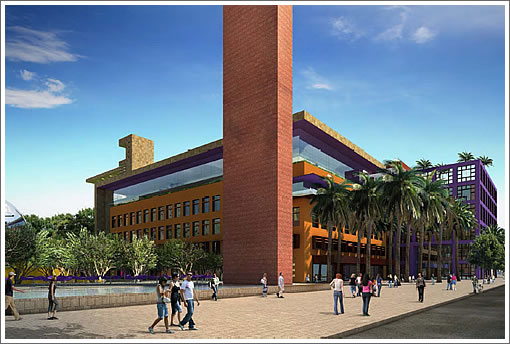 This building, at South Street and Terry Francois Boulevard, contains six stories of structured parking and office space. In addition to the office and entrance lobby, the ground floor is programmed with a fitness center and retail space which is setback from the street, providing a plaza that faces onto the waterfront park across Terry Francois Boulevard.
The building is strongly articulated into three segments: the parking structure, which is clad with a vertical orange terracotta rainscreen; the office block, which is clad with orange terra cotta and punched window openings; and an amenity wing which is clad with a purple accent material fenestrated with a square lattice grid.
Block 31, Pink Building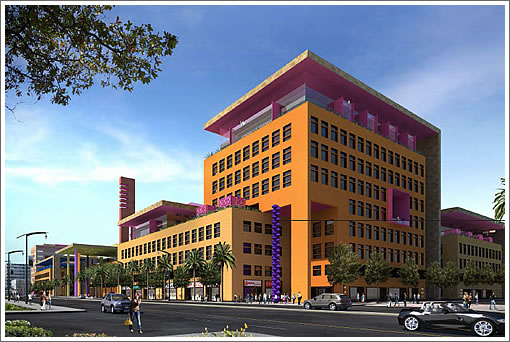 The Pink building at the corner of 16th and 3rd St. occupies an important corner of two prominent streets. It is composed of three distinct building masses: a five to six-story bar along 3rd Street that intersects with a ten-story office building as it wraps around the 16th street corner, and a six-story building mass in the mid-block of 16th that is separated by the office entrance lobby.
Ground floor retail along 3rd street wraps around 16th Street and into the "town center" plaza, and office uses occupy the majority of the remaining sides. The composition is solidly massed blocks punctuated by deeply recessed punched fenestration, contrasted by upper story setbacks and clad with glazed curtain walls, and capped by a flat roof plane with deep overhangs that folds down into a thickened wall.
Block 32, Yellow Building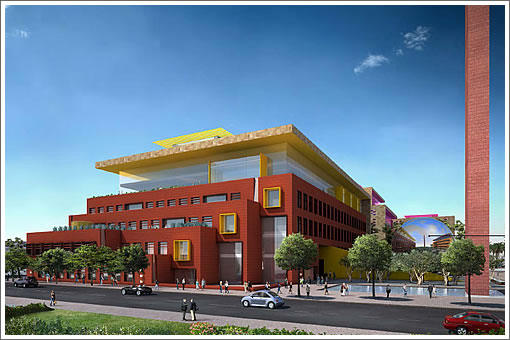 The smallest of the four buildings occupies the corner of Terry Francois Boulevard and 16th
Street. The building steps down to create a series of terraces that face the waterfront. A glass and steel bridge spans the vara to connect the Yellow building to the Pink building.


? Designs For Salesforce's Global Headquarters Complex in Mission Bay [SocketSite]
? A Bit Of Color On (And For) Salesforce's Campus In Mission Bay [SocketSite]