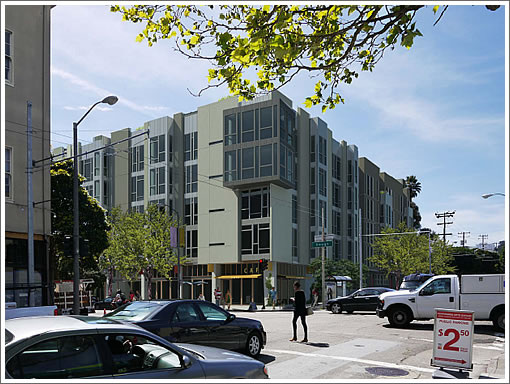 First approved for development in 2008, acquired out of foreclosure in 2010, and then unanimously re-approved by Planning in 2011 to include 63 dwelling units (versus 61 as first approved), a dispute with Planning over seven parking spaces is holding up the permits for the building of 401 Grove Street to begin.
The perspective of the project sponsors:
Our project is being brought back to the Commission [on] January 12, 2012 due to an oversight concerning parking spaces in the original Staff Report.
Seven of our parking spaces were shown on our planning submission as tandem spaces but specific findings were not made by Staff to obtain approval for the extra spaces in each tandem spot, so our site permit submission was held up. Planning staff never expressed concern about these parking spots, but they were not properly documented in the Staff Report, forcing us to come back to the Planning Commission to complete our entitlements.
From the perspective of the Planning Department:
On July 13, 2011, the Planning Commission approved a Conditional Use Authorization for a project to demolish an existing surface parking lot and construct a new mixed-use project containing 63 dwelling units (including nine on-site inclusionary housing units), 5,000 square feet of ground floor commercial uses, 32 off-street residential parking spaces, three commercial parking spaces, and two car-share parking spaces. The plans presented to the Commission included tables and graphics depicting seven of the residential parking spaces in a tandem configuration, which would result in a total of 39 residential parking spaces.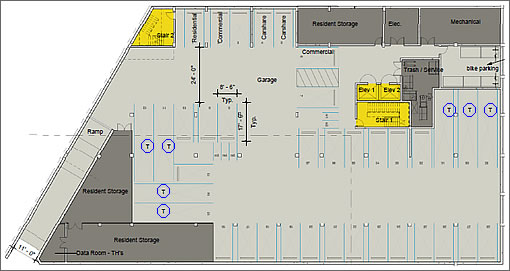 However, the written application indicated that the project was proposing parking in an amount which is principally permitted by the Planning Code. The Planning Code principally permits a maximum of 32 residential parking spaces for the project, at a ratio of one space for each two dwelling units. Accordingly, the conditions of approval limited the total number of parking spaces in an amount that did not account for the seven additional parking spaces that would result from the tandem configurations.
This week the Planning Commission will review a request to amend the project's approval to include the seven additional spaces, an amendment the Planning Department opposes and the value of which the project sponsors estimate to be $300,000 in "an environment where financing and equity are extremely difficult to put together."
As the site currently appears (and offers parking for more than 32):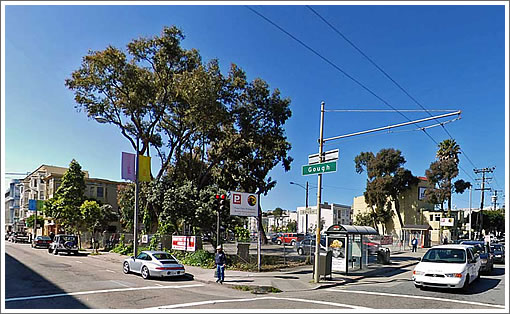 ∙ 401 Grove: Three More Weeks To Get Its Planning Groove On [SocketSite]
∙ 401 Grove Street: The Revised Designs And Density [SocketSite]