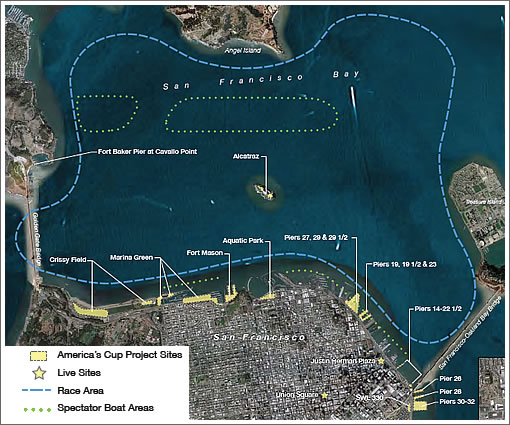 The Draft Environmental Impact Report (EIR) for the 34th America's Cup (AC34) and James R. Herman Cruise Terminal Project was just been published. The Report will be formally reviewed on August 11 with comments from the public accepted until August 25.
The San Francisco Planning Department published a Notice of Preparation on February 9, 2011 to notify the public of its intent to prepare an EIR on the AC34 and Cruise Terminal projects. During the public scoping process held in February and March 2011, the Planning Department received numerous comments from public agencies, organizations, and individuals regarding the scope and content of the EIR, including comments on environmental effects of the AC34 and Cruise Terminal projects as well as on the details of the projects themselves.
Comments received during the scoping process on the proposed projects and their potential environmental impacts are addressed in this EIR. This section lists the areas of controversy and major concerns raised during the scoping period as well as issues to be resolved. Issues to be resolved include those areas of concern that will be addressed either (1) during the permitting and approval processes for the projects subsequent to the completion of the CEQA process, (2) as part of the environmental review requirements under the National Environmental Policy Act (NEPA) for the applicable aspects of the project, (3) during design and implementation of the projects (assuming the projects are approved), or (4) as part of future proposals for long‐term development on Port properties as provided for under the Host Agreement and the associated environmental review process.
The areas of controversy and issues to be resolved include the following:
Details of the People Plan (including Transportation Management Plan), Waste Management Plan, Sustainability Plan, and other implementation plans as proposed.
Coordination of the AC34 project sponsors with federal, state, regional, and other local agencies for the planning and implementation of AC34 events.
Management and coordination of large private spectator yachts expected to view the AC34 events and impacts of increased boat traffic Long-term development rights of Port properties provided for under the Host Agreement following completion of the AC34 events, and environmental implications of such development.
Tenant relocation from Port properties that would be necessary for both the AC34 and Cruise Terminal projects.
Impacts of the AC34 events on views, traffic, services, utilities, recreational resources, and public access at proposed venue locations as well as at adjacent and nearby areas.
Potential conflicts of both projects with adopted plans applicable to the project sites, including effects on public access.
Effects of AC34 racing events on existing maritime and commercial uses of San Francisco Bay.
The first volume of the report is 746 pages while volume two is 698. So if you plan to comment or complain intelligently, you had better start reading now. Luckily volumes three and four are simply appendices.
∙ The Scope Of Development For San Francisco's First America's Cup [SocketSite]
∙ Pier 27 Terminal Rendered And Ready For Fiscal Feasibility Vote [SocketSite]
∙ San Francisco's Last Minute Giveaways To Get The America's Cup [SocketSite]
∙ 34th America's Cup Draft EIR: Part 1 | Part 2 | Part 3 | Part 4 [sfplanning.org]