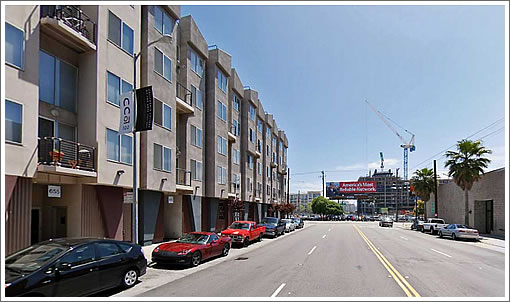 As we wrote in January:
Eleven years ago the two bedroom and three bath townhouse known as 655 5th Street #9 sold for $781,000 down in SoMa. Seven years and a thousand or two new neighborhood condos later, the 1,774 square foot unit sold for $1,018,000 in 2007 by way of an $814,400 first and a second for $152,700.
Yes, this was yet another case of only 5 percent down in the "it's different here" San Francisco and with "only" $50,900 in equity at risk. Lo and behold, this past November Wells Fargo foreclosed on the first with no bidders at $746,547.
Yesterday the property was listed for sale on the open market for $777,900, a sale at which would be just below its year 2000 price, "only" 24 percent ($240,100) below 2007.
The list price for 655 9th Street #9 has been reduced to $674,900. The bank is now asking 34 percent ($343,100) under its 2007 sale price, 14 percent ($106,100) under its year 2000 sale. And according to the listing, "offers anytime."
∙ Listing: 655 5th Street #9 (2/3) 1,774 sqft – $674,900 [MLS]
∙ Unfortunately Wells Wasn't Requiring 30 Percent Down At The Time [SocketSite]
∙ 30 Percent Down Or Interest Rates Up As Proposed By Wells Fargo [SocketSite]