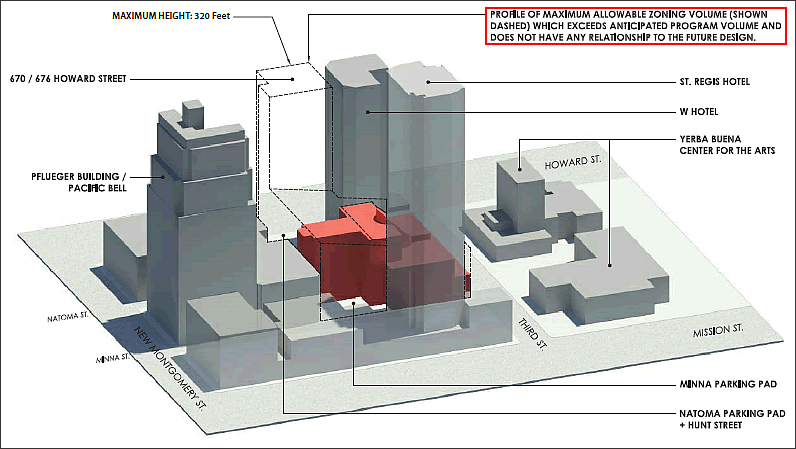 Additional details have started to emerge with respect to the proposed SFMOMA Expansion and Fire Station Relocation project which includes an "up-to-approximately" 235,000 square foot expansion of the existing museum, the building of a new fire station at 935 Folsom, and…a new four-story residential building of up to 13 units fronting Shipley Street.
The total square feet of new construction that could be built within the maximum zoning envelope [for the expansion] is approximately 340,000 square feet. However, SFMOMA proposes approximately 235,000 square feet of new construction, such that the project would occupy less than 70 percent of the potential building envelope [shown above – click image to enlarge]…it is assumed that the SFMOMA Expansion could occupy either the full height limit permitted at the site (320 feet) or the maximum bulk allowable…in order to accommodate the up-to-235,000-square-foot addition as proposed.
The Expansion would increase SFMOMA's gallery space by up to 133,500 square feet (comprising 13,500 square feet of renovated space in the existing museum, 60,000 square feet of space in the SFMOMA addition, and 60,000 square feet of space in new development along Howard Street), including galleries to house the Fisher Collection, and would allow the museum to consolidate its back-of-house functions that are currently housed partly in the museum and partly at a nearby off-site location at 673 Mission Street.
Along with the expansion uses noted above, some areas of the existing SFMOMA building would likely be reprogrammed as follows:
• approximately 12,000 square feet of existing support space on the third and fourth floors would be converted to gallery space;
• approximately 30,000 square feet of existing basement support and staff garage space would be renovated to serve as storage;
• the existing education center adjacent to the second floor galleries may be re-located to the main level, off the atrium; and
• the café functions may be expanded from approximately 4,000 square feet to 10,000 square feet.
The remaining space within the existing building, including the retail area and galleries, would not be altered, although some of the public areas may be reprogrammed to other public uses, such as a full service restaurant of approximately 5,000 square feet. The 18-space staff parking area in the basement of 151 Third Street would be eliminated and be converted to art storage or other back-of-house functions.
The existing fire station at 676 Howard Street would be demolished to allow construction of the SFMOMA Expansion project. To allow the existing fire station to be demolished, a new fire station would be constructed at 935 Folsom Street to replace it. As the fire station would not require the entire 14,400-square-foot property, the lot at 935 Folsom Street would be subdivided into two parcels and would include two uses: the new fire station fronting Folsom Street and a multi-family residential building with up to 13 units fronting Shipley Street.
The replacement fire station would be built on the northerly 9,000 square foot parcel referred to as Lot A and the multi-family residential project would be built on Lot B, the 5,400 square foot southerly portion of the lot, with a portion of both Lots A and B also providing at-grade parking for firefighters (13 spaces for cars parked in tandem plus one space for disabled drivers; the personal vehicles of fire fighters would remain parked for each firefighter's 24-hour shift). The eight spaces of surface parking on Lot B would be provided pursuant to a parking easement.
The new fire station would be two stories plus a mezzanine level. It would be an approximately 34-foot-tall structure with a gross area of between 13,000 and 15,000 square feet and a footprint of approximately 6,750 square feet. The fire station's staffing level and equipment would not differ from the current condition at Fire Station No. 1. (The existing fire station is staffed by 13 firefighters and houses three vehicles.) The fire station would have three bay doors (as opposed to two bay doors at the existing fire station) fronting on Folsom Street and a surface area for firefighter parking located at the rear of the station. The staff parking area would be accessed from Falmouth Street. The new fire station would rest on a pile-supported foundation.
The residential building fronting Shipley Street would be a four-story, 45-foot-tall structure with a subterranean parking garage. The garage would comprise approximately 5,550 square feet and would be accessed from Falmouth Street. The above-grade structure would have a gross area of about 14,000 square feet, and would include up to 13 residential units. The residential units would consist of about two studios (approximately 450 square feet in size); five one-bedroom units (approximately 700 feet in size); and six two-bedroom units (approximately 1,000 square feet in size). Approximately 1,040 square feet of open space to serve the residential uses would be provided on the site. Excavation to a depth of 10 feet below grade would be required for construction of the building's basement level garage (which would contain 10 vehicle spaces with a portion of the subterranean parking area being located beneath the 20-foot at grade parking easement provided for the fire fighters' vehicles).
Construction of the new fire station is expected to begin in late 2011 to early 2012 and take a total of about 12 months to complete; demolition would take approximately 2 weeks followed by approximately 11½ months of construction. (If the residential building were constructed subsequent to the fire station it would take approximately 14 to 16 months to complete.)
Construction on the museum expansion project would likely start no earlier than 2013.