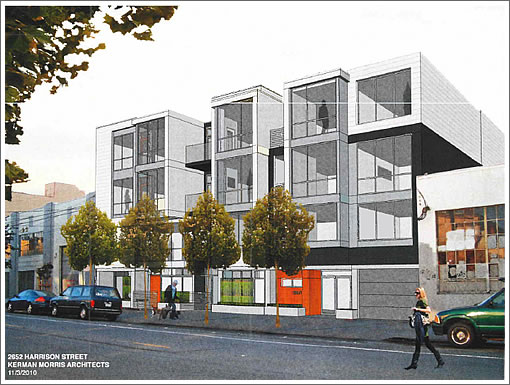 Speaking of the Historic Preservation Commission, on Wednesday the Commission will review and comment on an application to demolish the vacant 20-foot tall commercial building at 2652 Harrison constructed circa 1939 and replace it with a new 40-foot-tall building of four stories with 20 dwelling units over parking for 17 cars.
The proposed project is subject to the Eastern Neighborhoods Area Plan Interim Permit Review Procedures for Historic Resources in effect until such time as the Historic Preservation Commission adopts the forthcoming Historic Resources Survey.
All proposed new construction that would result in an increased building envelope with a height exceeding 55 feet, or an increased building envelope with a height 10 feet greater than an adjacent building constructed prior to 1963 shall be forwarded to the Historic Preservation Commission for review and comment during a regularly scheduled hearing with any comments to be forwarded to the Planning Department for incorporation into the project's final environmental evaluation document.
The proposed project requires a public hearing because its proposed height would exceed by more than 10 feet the height of adjacent properties at 2650 and 2660 Harrison Street, both of which were constructed prior to 1963.
As the site more or less appears today (and has for quite some time):


∙ 2652 Harrison: Request for HPC Review and Comment [sf-planning.org]
∙ Eastern Neighborhoods Plan, It's Not Just For Policy Wonks Anymore [SocketSite]