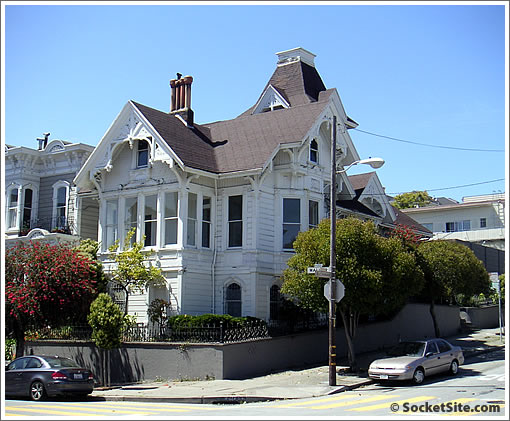 As we wrote about the Nightingale House in October 2007 when listed for $1,895,000 (a month after being purchased for $1,605,000):
It is thought that the Nightingale House at 201 Buchanan (corner of Waller) was built for a former president of the California Pioneers (John Nightingale) in 1882. It is known that it is now San Francisco Landmark Number 47; that it is protected by a preservation easement; and that it was recently home to San Francisco Arts Commissioner and local artist Jo Hanson.
"Hanson came to prominence early in the 1970's, soon after she moved into a deteriorated but stately Victorian on Buchanan Street. Once she had resuscitated the house into a landmark, she tackled its windy litter-strewn sidewalk. Her personal act of sweeping one sidewalk grew into a celebrated public art practice and citywide anti-litter campaign. Her compiled volumes of urban detritus are recognized as an artistic political tour de force that raised community awareness as it chronicled rapidly changing demographics."
And while we haven't been inside [Editor's Note: we have since] – and the "fixer" designation and lack of interior pictures leads us to believe that it might be in need of some good old fashioned TLC [Editor's Note: It does] – we're sure a reader or two has (and might be willing to wax poetic on its potential).
As a reader added in February 2008 after the listing was withdrawn from the market:
For a short time, about two month ago, this house was on the market for rent ($5000). I did call to find out more, but was told that the current owner seemed to have changed his/her mind.
Back on the market in 2010 and asking $1,575,000. As an aside, the sale in September 2007 was marked as "confidential" on the MLS and as such its asking price of $1,749,000 was used for all reporting purposes.
∙ Listing: 201 Buchanan (4/3) – $1,575,000 [MLS]
∙ The Landmarked Nightingale House (201 Buchanan) Hits The Market [SocketSite]
∙ San Francisco Landmark 47: Nightingale House [noehill.com]