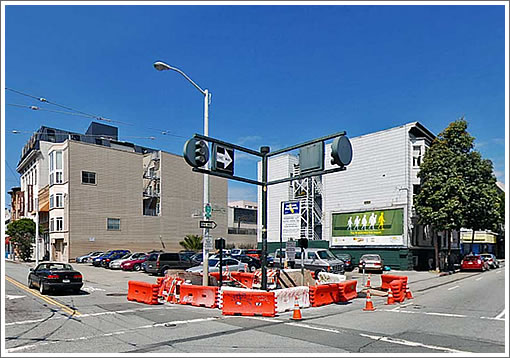 As a couple of plugged-in tipsters note, the surface area parking lot at the corner of Page and Franklin (1 Franklin) is being eyed for a new eight-story mixed-use development of 35 residential units over 2,378 square feet of ground floor retail and 18 parking spaces.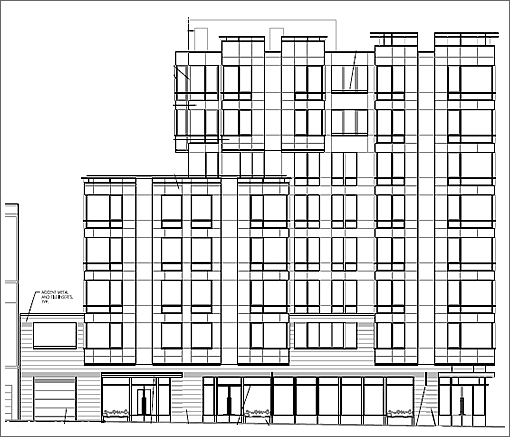 As proposed, the building would rise 85 feet along Franklin and step down to 55 feet along Page (not including the cornices atop the bays or the stair and elevator penthouse).
And according to Planning, "no hearing is required for approval except [for a hearing on March 24] to consider relaxing the requirements for bay windows under Section 136."
PER SECTION 136 OF THE PLANNING CODE permitted obstructions (bay windows) over the public right-of-way are limited to extend over the property line 2-feet where the sidewalk is 9-feet or less and 3-feet where the sidewalk is over 9-feet in width. The maximum width allowed for a bay window is 15-feet, narrowed at a 45-degree angle to a maximum width of 9-feet as it extends over the property line.

The minimum horizontal separation between bay windows is 2-feet at the property line, widened at a 135-degree angle to a minimum width of 8-feet as it extends over the property line. The proposed bay windows do not meet the projection, width, or separation requirements; therefore, the project seeks a variance from the requirements of Planning Code Section 136.
Yes, somehow it always seems to come back to bay windows in San Francisco.