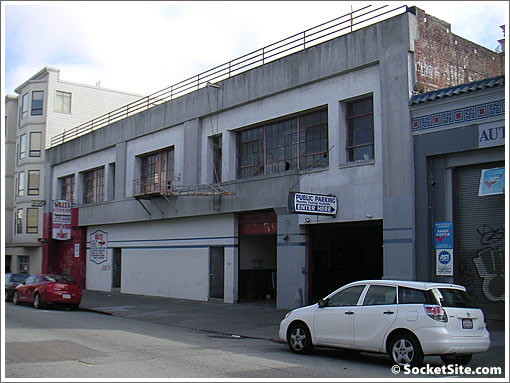 The latest designs for the 1645 Pacific Avenue project we first introduced you to 21 months ago are now online. As proposed, 1645 Pacific (currently two stories and 30 feet) and 1661 Pacific (currently one story and 18 feet) would be replaced by a six-story, 65-foot-tall (excluding 9-16 foot mechanical penthouses), and 64,170 square foot mixed-use building.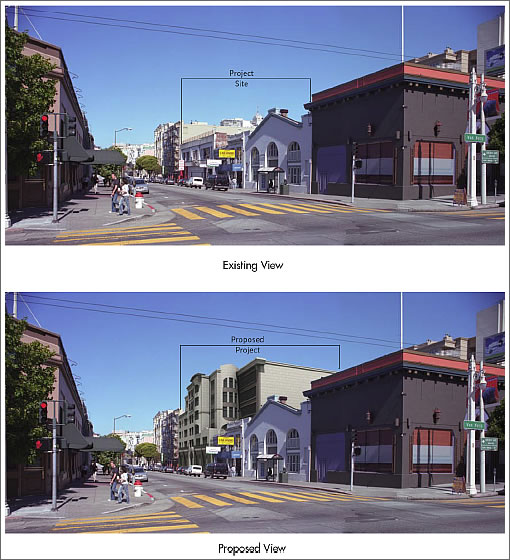 There would be 48 dwelling units (approximately 46,570 sq.ft.) and 3,410 sq.ft. of ground-floor retail space. The dwelling units would consist of 26 studios and seven one-bedroom, 12 two-bedroom, and three three-bedroom units. The basement would contain 24 bicycle parking spaces and 49 vehicle parking spaces, of which 39 would be mechanical lift spaces, nine would be independently accessible spaces…and one would be an independently accessible car-share space.

Open space (a combination of common and private open space) for the dwelling units would be provided through a common rear yard (2,600 sq.ft.), roof deck (1,400 sq.ft.), and private decks (2,450 sq.ft.). The project sponsor would comply with the requirements of the Inclusionary Housing Ordinance for below market rate (BMR) units ordinance by paying an in lieu fee.

Project construction would take about approximately 20 months, and occupancy is anticipated in late 2011. The estimated construction cost is $18,150,000. The project sponsor and developer is 1645 Pacific Avenue, LLC and the project architect is BDE Architecture.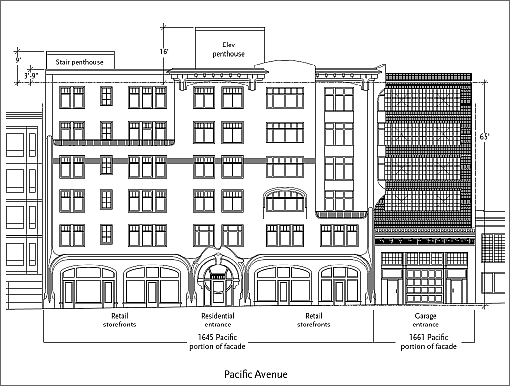 An alternate "preservation" proposal to address historical concerns (a "potential auto row historic district") would demolish 1645 Pacific but restore 1661 Pacific, an alternative which would yield ten fewer future homes.
Other non-historic concerns raised by neighbors that are addressed in the project's Environmental Impact Report: density, scale, height, design, visual and neighborhood character, rear yard size, traffic, noise, wind, light, shadows, and impact on property values, quality of life and (their) views.