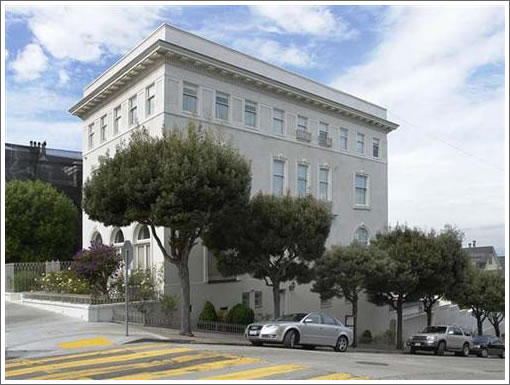 Listed in December 2007 for $25,000,000, reduced and then withdrawn in July 2008, 2100 Vallejo returned to the market a year later asking $15,200,000. Yesterday its asking price was reduced to $13,500,000 (which includes the adjacent buildable lot).
Call it an effective 46 percent reduction in list price over the past two years. As a plugged-in sleepiguy wrote in 2008:
Believe me, even billionaires are scared of the planning commission. It also doesn't help that the house next door has been for sale for well over a year for about 10 million less. Based on the Scott St. sales, I think this house would've sold for 18-20 earlier this year, but I'd wager that right now it's dead in the water.
And as a plugged-in eddy added earlier this year:
Honestly, in re-reading my comments and sleepiguy's…I have to think that north of $15M is a stretch at this point. 10 for the house, 5 for the lot…. And that is a big Maybe. The craze of 2007/2008 at this end of the market is gone.
That's something that shouldn't have caught any plugged-in readers by surprise. Now about the newest competition in the eight figure realm…
UPDATE (11/21): Just to be clear, and as noted in our first paragraph above, the listing for 2100 Vallejo also includes the adjacent lot (officially known as 2110 Vallejo).
∙ Listing: 2100 Vallejo (5/5.5) – $13,500,000 [MLS]
∙ It Might Not Have A Name, But It's A Vallejo Mansion Nonetheless [SocketSite]
∙ It's Time For Another Industry Report Asterisk (2100 Vallejo Edition) [SocketSite]
∙ 2342 Broadway Returns Anew, "Green," And Asking $14,000,000 [SocketSite]