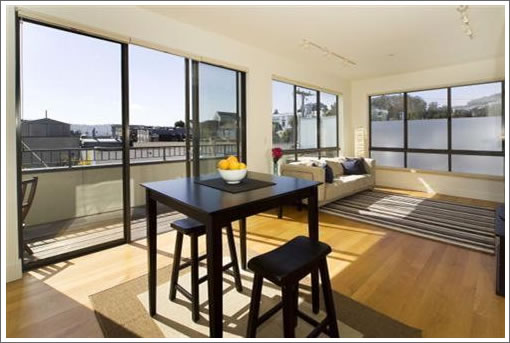 A few months after the 15-unit Glen Park Market Place premiered, 53 Wilder Street #406 closed escrow for $855,000 (September 2006). It's two bedrooms, two baths and 1,249 square feet. And it's back on the market and asking $839,000 (2% under its 2006 price).
Interestingly enough, a two bedroom, two bath and 1,279 square foot unit next-door (53 Wilder Street #405) sold for $871,000 this past April. It had been purchased for $810,000 in November 2006. As a plugged-in tipster noted about the sale at the time:
The only explanation I can come up with for the gravity-defying price is that Glen Park village has improved significantly in the meantime. The new Canyon Market on the ground floor seems to be successful and some nice new restaurants (Le P'tit Laurent, Sangha) have opened within 60 seconds walk.
Neighborhood, building or property changes can definitely muddle an "apples to apples" comparison when trying to divine how "the market" is moving. That being said, back to 53 Wilder #406 (or #203 which has been on the market for 70 days at $749,000, purchased for $729,000 in September of 2006).
Will changes in the village continue to help Glen Park Market Place defy beyond #405?
UPDATE: From the aforementioned tipster: "I should point out that one of the restaurants I cited (Sangha) has since closed." Perhaps that's what's changed for #406…
∙ Listing: 53 Wilder #203 (2/2) 1,212 sqft – $749,000 [MLS]
∙ Listing: 53 Wilder #406 (2/2) 1,249 sqft – $839,000 [MLS]
∙ Glen Park Market Place: Range Of Prices And BMR Deadline [SocketSite]