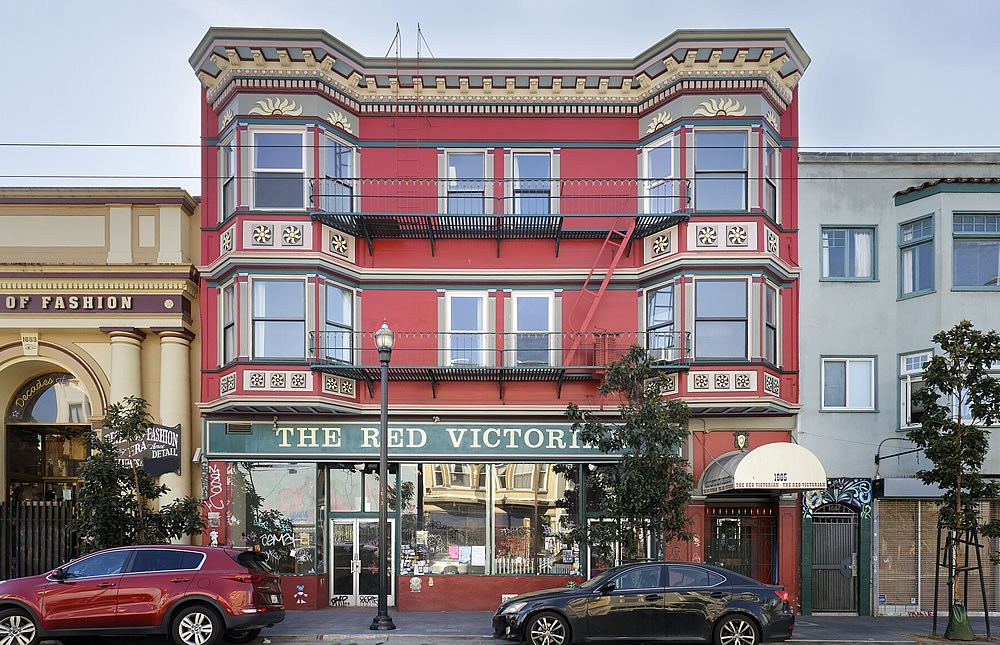 Shuttered by the pandemic and then briefly occupied by the Fishbowl Collective, a multiracial group of trans & gender-nonconforming artists and housing advocates that were granted permission to host socially distanced drag shows from behind the building's storefront windows in late 2020 but were then forcibly removed from the property after being accused of staging a "hostile takeover" of the rest of the hotel, the historic Red Victorian at 1665 Haight Street is now on the market with a $4.988 million price tag.
Built as the Jefferson Hotel in 1904 and acquired by Sami Sunchild in 1977, the artist, activist and eventual founder of The Peaceful World Foundation had the hotel's façade painted its signature red and dubbed it "The Red Victorian Bed and Breakfast Peace Center," a destination hotel where guests could "meet…other travelers and have great conversations on world peace."
Still owned by the Peaceful World Foundation, the Red Victorian had been leased to a subsidiary of District Commons, a non-profit that provides housing for the formerly incarcerated and funds community art projects, which had operated the now vacant hotel prior to it being shuttered (and filed the forcible detainer to remove the Fishbowl Collective at the end of the subsidiary's lease).
In addition to 21 hotel rooms spread across the building's second and third floors, which have seen better days, the 8,550-square-foot hotel has a 2,800-square-foot storefront with 14.5-foot ceilings, a kitchen and a mezzanine loft. We'll keep you posted and plugged-in.