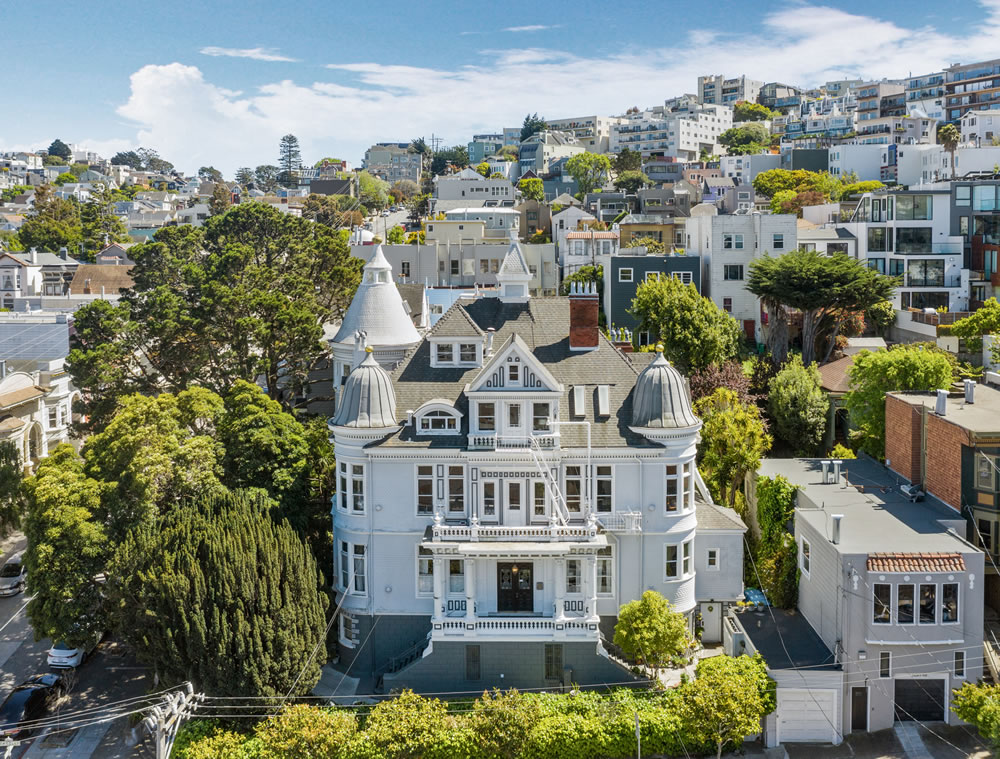 Known as "Nobby Clarke's Folly" back in the day, the 8,395-square-foot Alfred E. Clarke Mansion at 250 Douglass Street, which occupies the southwest corner of Caselli Avenue in Eureka Valley/Corbett Heights, is now on the market with a $5.85 million price tag.
Built for Alfred "Nobby" Clarke on the easterly boundary of a 17-acre tract acquired by Clarke in 1891, the four-story mansion, which was designed by Gould & Colley and landmarked by the City of San Francisco in 1975, features an eclectic collection of both Queen Anne and Colonial Revival details, with flamboyant towers, gables, dormers and shingle designs.
Born in Ireland, Clarke arrived in San Francisco in 1850 at the age of 17 and secured a position as a patrolman on the city's police force in 1856 along with a reputation for violence, including one incident in which a suspect retaliated, permanently disfigured Clarke's hand and resulted in the "Nobby" nickname.
Moved to a desk job, Clarke served as a clerk to the chief of police, during which time he studied law, and became the chief legal advisor to the chief of police.
And when Clarke resigned from the force in 1887, he had amassed an estimated net worth of around $200,000, which is twice as much as the mansion cost to build, having established a "money lending service" for fellow officers and other city employees at usurious rates during his tenure on the force (and for which he was suspended for a few years).
Clarke went bankrupt in the Depression of the 1890s and was forced to sell the mansion, which he had mortgaged, to the faculty of the California Medical College in 1896.
The mansion served as a small teaching hospital for the Medical College until 1901, was home to the California General Hospital from 1901 to 1906 and then Jefferson Hospital for two years.
In 1909, the mansion was then converted into 15 apartments, with five (5) studios, seven (7) one-bedrooms and three (3) two-bedrooms, as it is currently configured, with a throwback entry/foyer and updated kitchens, baths and unit interiors.
And with its lot having been whittled down over the years to 0.191 acres, but with a stand-alone cottage and a one-car garage as well, the property is currently generating around $394,409 in annual rents, for a CAP rate of 3.75 percent as currently priced and fully occupied.