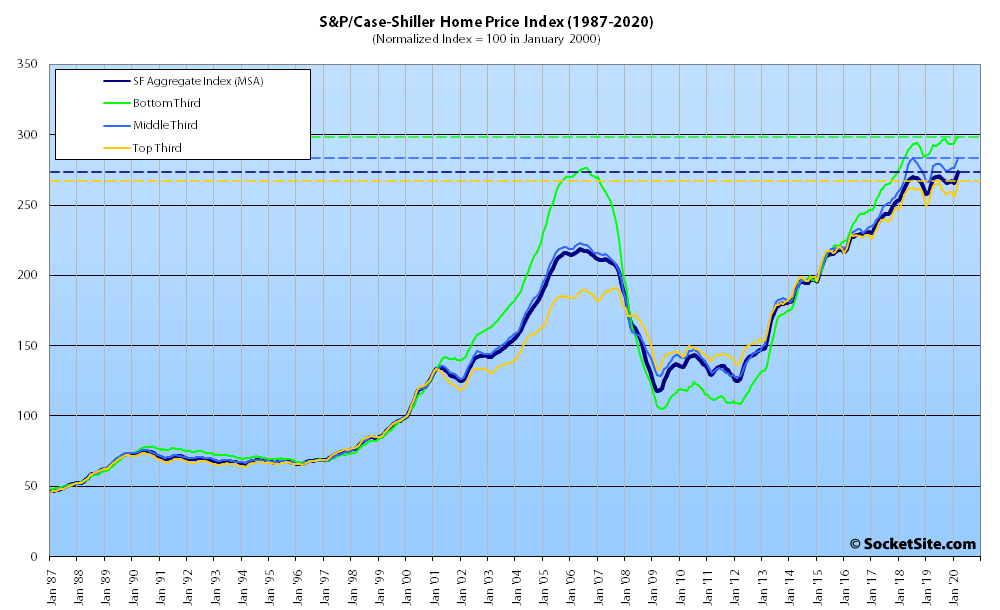 Having ticked up an upwardly revised 1.2 percent in February, the S&P CoreLogic Case-Shiller Index for single-family home values within the San Francisco Metropolitan Area – which includes the East Bay, North Bay and Peninsula – ticked up nearly two (1.8) percent in March to a new all-time high.
At a more granular level, the index for the least expensive third of the market inched up 0.3 percent in March and is back above its peak in the third quarter of last year (by 0.3 percent); the index for the middle third of the market ticked up 1.3 percent in March and is back to even with the peak it hit in mid-2018; and the index for the top third of the market recovered 2.9 percent in March, putting it 0.7 percent above the peak it hit last June.
Across the nation, Phoenix led the way in terms of home price gains in March, up 8.2 percent on a year-over-year basis, followed by Seattle (up 6.9 percent) and Charlotte (up 5.8 percent, year-over-year).  And the index for Las Vegas moved in parallel to the national average, which was up 4.4 percent on a year-over-year basis versus 3.5 percent in San Francisco.
All that being said, keep in mind that while the March index does include sales through the end of March, along with sales which closed in January and February, March sales are typically the result of contracts that were written in February.  And in fact, the impact of the "governmental suppression of economic activity in response to the COVID-19 pandemic," which didn't take hold until mid-March, really won't start to be reflected in the index for another month.
Our standard SocketSite S&P/Case-Shiller footnote: The S&P/Case-Shiller home price indices include San Francisco, San Mateo, Marin, Contra Costa and Alameda in the "San Francisco" index (i.e., greater MSA) and are imperfect in factoring out changes in property values due to improvements versus appreciation (although they try their best).