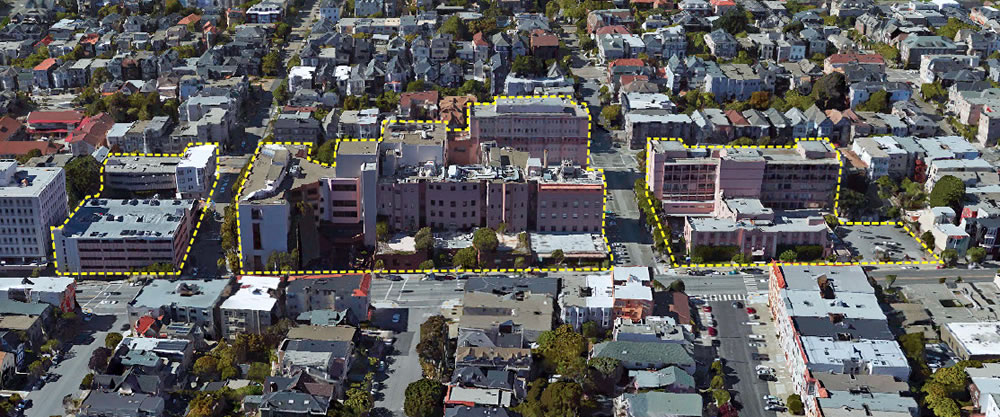 As we first revealed back in the third quarter of 2018:
With an Environmental Impact Report (EIR) for the formally proposed semi-massive redevelopment of CPMC's nearly 5-acre California Hospital Campus at 3700 California Street about to be drafted, the project team has refined their plans and projected timing for the project.

The refined plans now include 273 units of high-end housing, up from 258 as previously envisioned, spread across 31 new buildings rising up to seven stories in height on the southern border of Presidio Heights.

At the same time, the number of off-street parking spaces, which Planning had recommended be reduced, has been increased from 393 to 416, including 2 spaces for each of the 12 single-family homes.
And next week, the project's Environmental Impact Report could be certified and the plans approved with a slight revision, increasing the number of new single-family homes to 14 while maintaining a total yield of 273 units (a mix of 69 studios and one-bedroom units, 88 twos, 96 threes and 20 four-bedroom homes), as newly rendered by RAMSA and BDE Architecture below.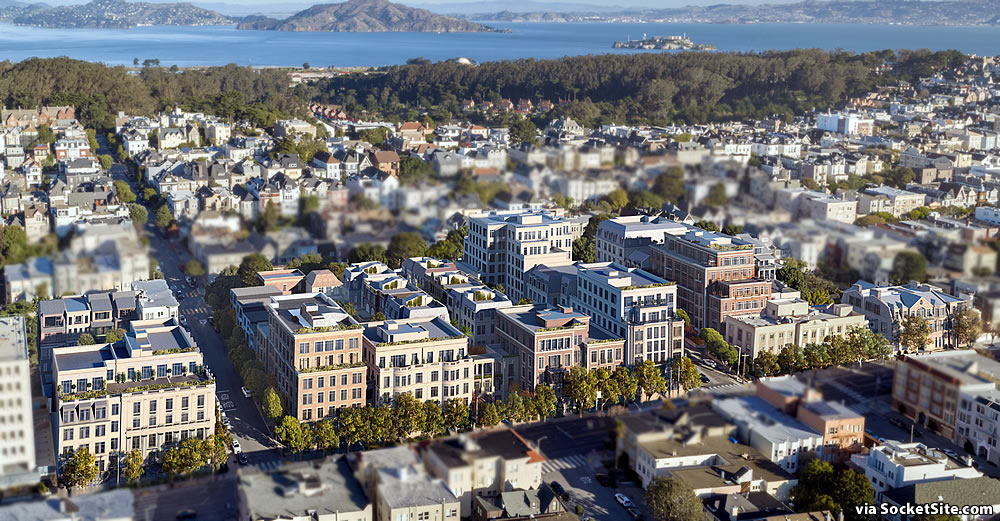 From the Planning Department's recommendation that the project be approved as proposed:
"The Project will address the need for new housing by adding 264 [net new] dwelling units to the City's housing stock, including family-sized units with two bedrooms or more in approximately 80% of the units. Additionally, the Project also proposes a variety of different housing types accommodating residents' different life stages, including single-family homes as well as multi-family units with studios, 1-bedroom, 2-bedroom, 3-bedroom and 4-bedroom units."
And while the project's density, and average height, is well below that of an average development on the eastern side of town:
"The Project has been designed to be consistent with the scale of the surrounding neighborhood and responds appropriately to the immediate context. The Project also respects its location and topography, by situating the buildings and setting the heights appropriately. The Department also finds the project to be necessary, desirable, and compatible with the surrounding neighborhood, and not to be detrimental to persons or adjacent properties in the vicinity."
Building permits for the project have been requested. And assuming the project is approved and survives any legal challenges, TMG Partners has been positioning to break ground early next year, phasing the project on a block-by-block basis, moving east to west and potentially finishing construction around 2024, as "dictated by market conditions."