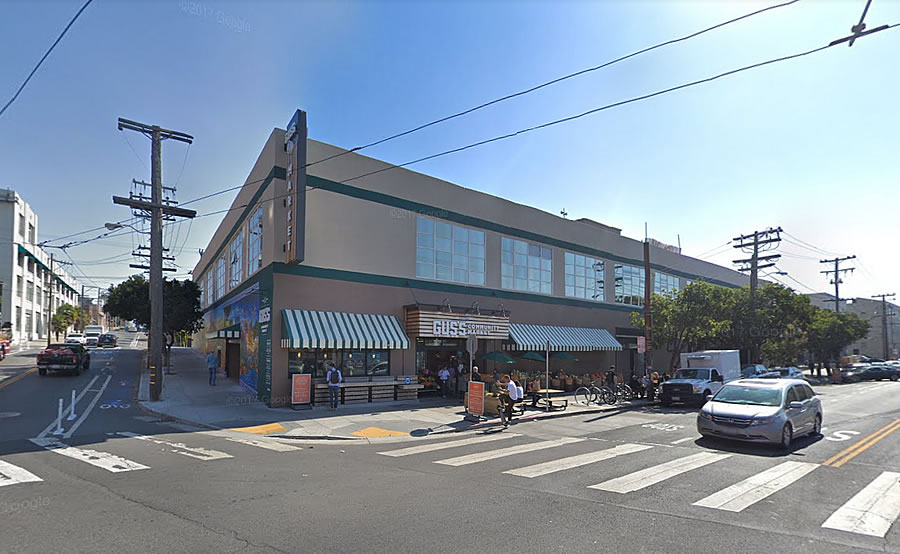 Technically zoned for Production, Distribution and Repair (PDR) uses, special permission for Gus's Community Market to open on the corner of Harrison and 17th Street, on the first floor of what is technically the 400 Alabama Street building, was granted back in 2015, as we first reported at the time.
And an even bigger addition to the 32-foot-tall building, which sits on a parcel which is zoned for development up to 68 feet in height, as measured from Alabama Street, has recently been drawn.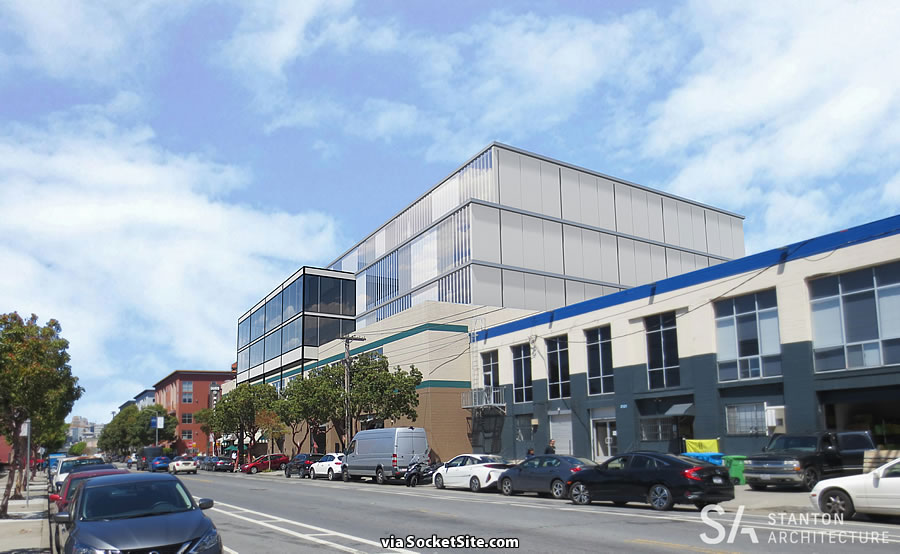 As envisioned, the proposed addition would add three stories and 65,000 square feet of new "PDR" space atop the building, along with 21 new parking spaces on the building's mezzanine level, accessed via Alabama.
From Stanton Architecture with respect to their plans:
"The three-level addition will sit atop the existing PDR building and aims to leave the industrial character of the building intact. To achieve this, the new construction will sit inside of the parapet and will feature contrasting design characteristics to ensure that the addition compliments and not competes with the existing concrete building." It's likely that a technique similar to ground-penetrating radar will be used to ensure that this project can go ahead without any damage being done to the structure of the existing building. This is essential to ensure this building will remain safe in the future.

The new construction will feature a mix of clear glass, semi-transparent glass, and opaque spandrel panels in a vertical pattern. The exposed vertical mullions on the glass and the aluminum-clad expressed floor slabs will evoke the manufacturing elements of the neighborhood.

The reductive massing setbacks located along Harrison Street will help sculpt the building while providing open space for building users. The mechanical spaces along Alabama Street will be treated with a decorative screen element that will allow for ventilation of the space, while accentuating the industrial character of the addition.

A projection along Harrison Street is proposed to balance the massing and provide an element of visual interest and contrast. This projection will consist of dynamic and opaque glass with exposed framing. The dynamic glass along this western façade aids in sustainability features for the project.

In summary, the proposed massing should provide both additive and subtractive articulation with a contemporary style that will complement the existing industrial building."
While the addition would require some seismic upgrades to accommodate the addition, it's possible the work could be completed without having to close Gus's as designed (although the market's parking lot would need to be shuttered for some period of time). We'll keep you posted and plugged-in.