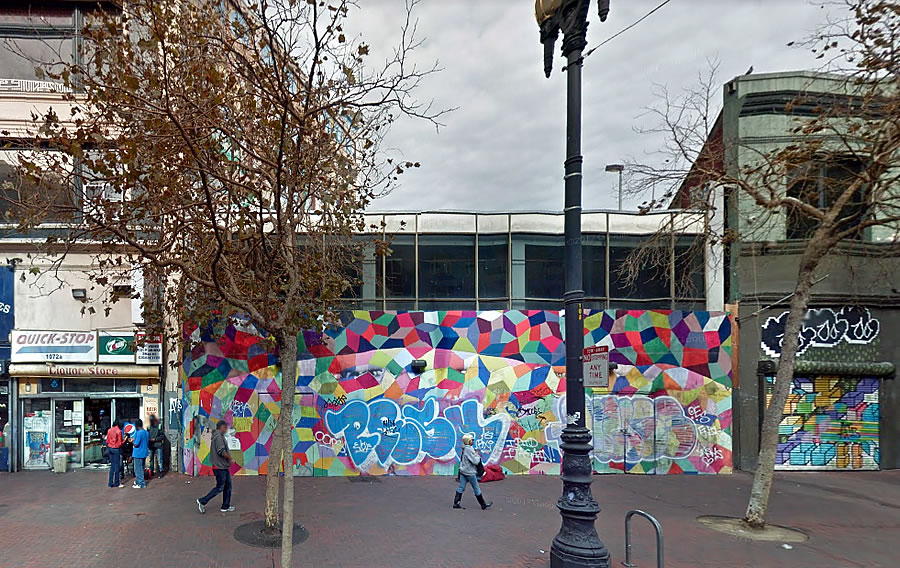 Having noticed that buildings which have been shuttered, pending the approval, financing or market conditions for redevelopment, often sit vacant "for months or years, during which [time] the streetscape surrounding the building becomes less inviting and a target for vandalism," as was the case at 1066 Market Street, pictured above, for around four years, Mayor Breed is championing a proposed amendment to San Francisco's Planning Code which aims to encourage the activation of said sites.
From Planning with respect to the proposed amendment which would create a new type of Temporary Use Authorization (TUA) specific to development sites and which could be granted for an initial period of up to 36 months, a period which could be doubled by way of three potential 12 month extensions:
"The current process for a building that is slated for redevelopment to establish a temporary use is rife with obstacles.

The first major hurdle can be filing the building permit to change the use. Depending on the proposed use and zoning district, this use permit may require Neighborhood Notification, or a Conditional Use authorization. By the time the permit is granted, the building may be scheduled for demolition.

The second hurdle is whether the proposed temporary use is allowed in the zoning district. There may be uses the Department feels are appropriate for a space on a temporary basis, (and are far more desirable than a vacant storefront), but would not be allowed as a permanent use, and therefore would not be allowed under a traditional change of use permit.

Lastly, many use types come with impact fees. Often, these fees can be a hindrance for developers looking to establish a new use only temporarily.

The proposed Temporary Use for Intermittent Activities on Development Sites permit has been carefully crafted to only allow uses the Department and the legislative sponsors find appropriate to allow in the designated zoning districts, on a temporary basis. The proposed TUA is additionally designed to remove the hurdles for the businesses to establish, like the prolonged permit review time and impact fees.

[In addition], the proposed Ordinance recognizes that even though a project may be approved, market dynamics and building costs can cause additional delays on the project breaking ground [and the] ability for the Director to grant up to three, one-year extensions of the TUA ensures the temporary uses may continue to activate the street in case of delays, while also ensuring the Department feels those uses are still appropriate on a yearly basis after the initial approval period has expired."
Only sites located in a Commercial (C), Residential Commercial (RC), Downtown Residential (DTR), Neighborhood Commercial Transit (NCT) District, or Neighborhood Commercial (NC) and Mixed Use (MU) Districts within the area bounded by Market, 13th/Duboce, Division and King (aka SoMa), as mapped below, would qualify.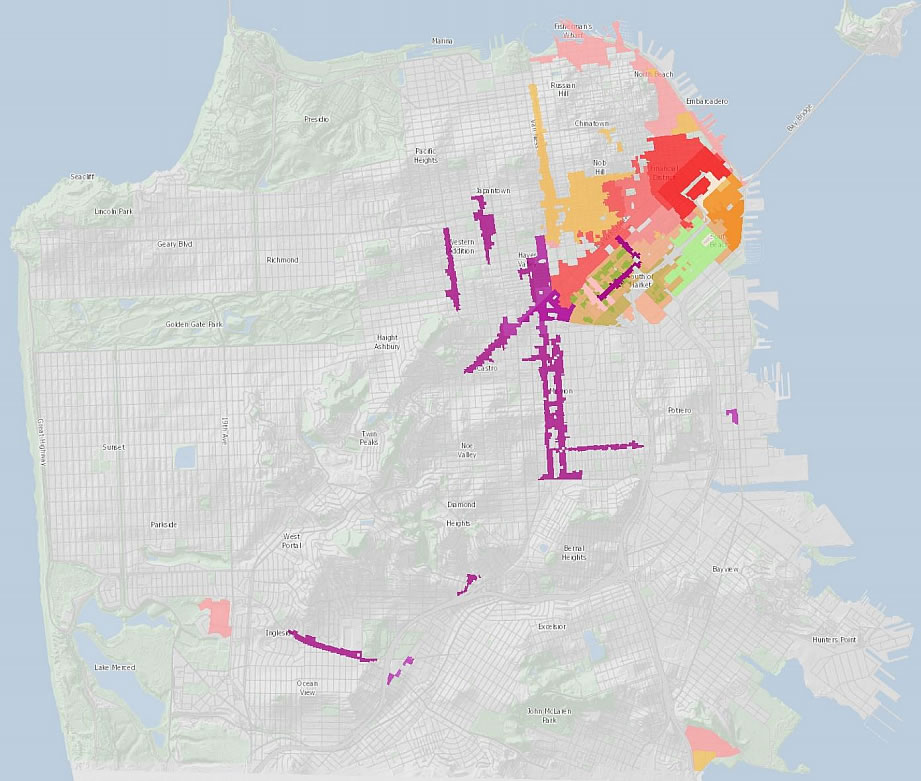 Acceptable temporary uses would include Homeless Shelters; Entertainment, Arts and Recreation uses; Social Services or Philanthropic Facilities; any Agriculture/Beverage Processing, Light Manufacturing, or Metal Working use permitted either conditionally or principally within a PDR-1-D District; any Retail, Sales or Institutional use regardless of its size; any use that's principally or conditionally permitted in the subject zoning district; and/or any Office Use, "so long as such Office space is less than 5,000 gross square feet and an equal or greater square footage of space is established within a building on the same eligible Development Site and dedicated for Arts Activities and/or Light Manufacturing use."
And with the Planning Department's support – and hope that "activating these spaces during their interim periods of development will not only keep the street active but may also provide affordable spaces for businesses that are just starting out, or whose use type cannot pay higher commercial rents" – the proposed amendment is slated to be presented to San Francisco's Planning Commission this coming Thursday, April 25.