As we first reported back in December of 2017:
Plans for a mixed-use building to rise up to six stories in height upon on the parking lot parcel at 425 Broadway, which actually wraps around the three-story Crowbar and residential hotel building on the corner of Broadway and Montgomery, have been drafted by Ian Birchall and Associates.

Dubbed 'Montgomery Place,' the proposed development would leverage California's Density Bonus law to yield 48 residential units over 2,600 square feet of ground floor retail space fronting Broadway and a 92-car garage, which would act as both a commercial garage as well as providing 23 dedicated parking spaces for residents, with its entrance adjacent to the building's lobby on Montgomery.

A non-density bonus version of the project would rise to a height of 40 feet and yield a total of 38 residential units over a 15-car garage. But in either case, as designed, only seven (7) of the residential units would be required to be offered at below market rates.
As newly rendered below, a hybrid design for the site, which is currently zoned for development up to 65 feet in height, has since been drafted and submitted to Planning, a six-story design which would technically rise to a height of 64 feet, with 36 condos (a mix of 20 one bedrooms, 12 twos and 4 threes) over 4,500 square feet of ground floor retail space; 27,000 square feet of office space; and a basement garage for 42 cars (24 spaces of which would be designated for the commercial tenants):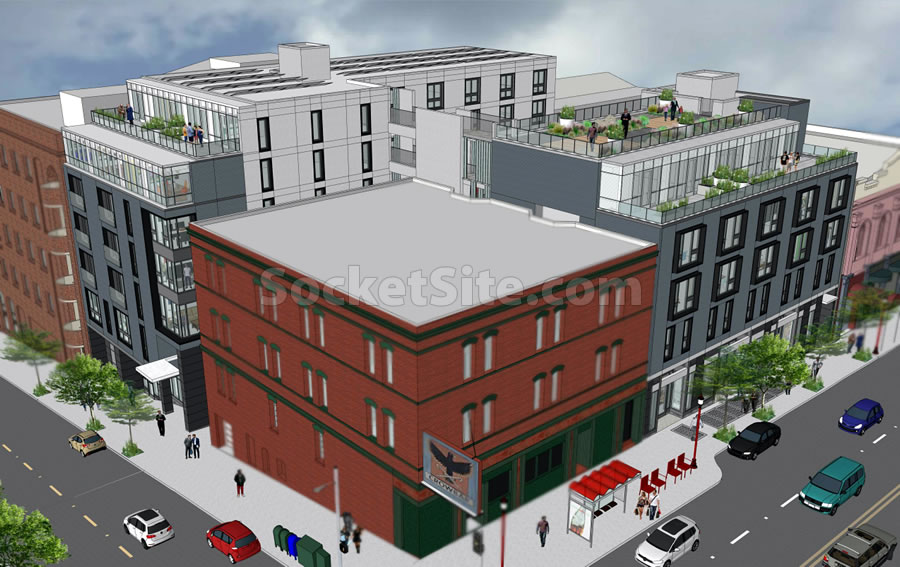 And as envisioned, a proposed in-lieu fee of around $3.8 million would paid to the City rather than offering any of the units at below market rates.  We'll keep you posted and plugged-in.