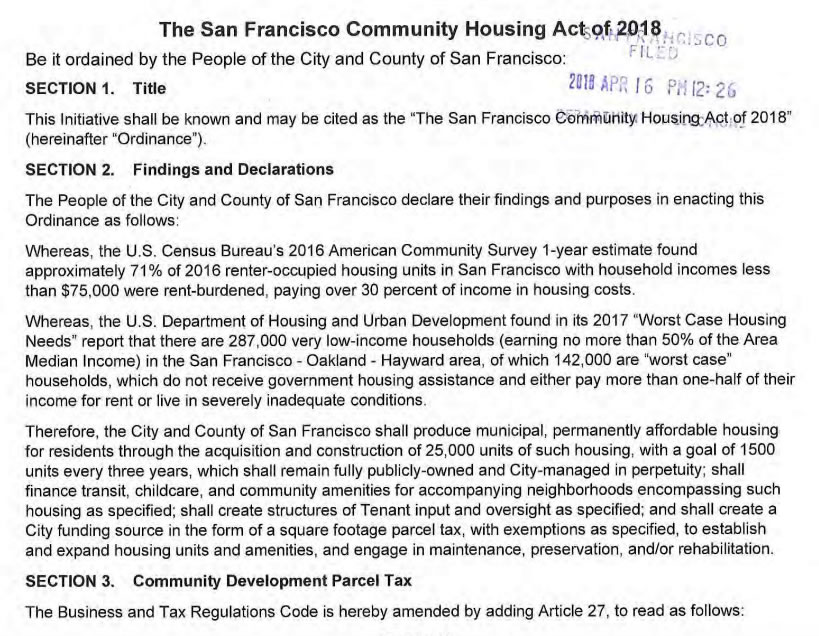 The paperwork for a proposed ballot measure to establish a new "Community Housing Program" and parcel tax in San Francisco has just been filed with the Department of Elections.
If qualified for a future election and approved by voters, the "SF Community Housing Act of 2018" would require the city "to create" 1,500 units of affordable housing every three years, either by building from scratch or purchasing existing buildings, "equally distributed across all Supervisorial districts" and "within 0.4 miles" of a major transportation station or stop. The units would remain "permanently owned and maintained by the city" but overseen and managed by a "Community Council of tenants" in each neighborhood.
Existing tenants in buildings acquired by the City would get to stay in their units, "no matter their income or residency." New or vacant units would be offered by lottery to those with incomes of between 10 and 100 percent of the Area Median (AMI) who have been residents of San Francisco for over a year, "regardless of immigration status." And new rents would be generally set at 30 percent of a household's after tax income.
In order to fund the program, the act would establish an annual tax of $0.43 per square foot of total building area on every taxable parcel in San Francisco, both residential and commercial, with potential exemptions for the square footage of homes owned and occupied by households with incomes below the Area Median.
And as noted by the organizing party: "Large buildings like the Salesforce Tower [would] pay close to $600,000 each year" to fund the program (which hints at how an opposition party, if necessary, will be (rather well) funded as well).