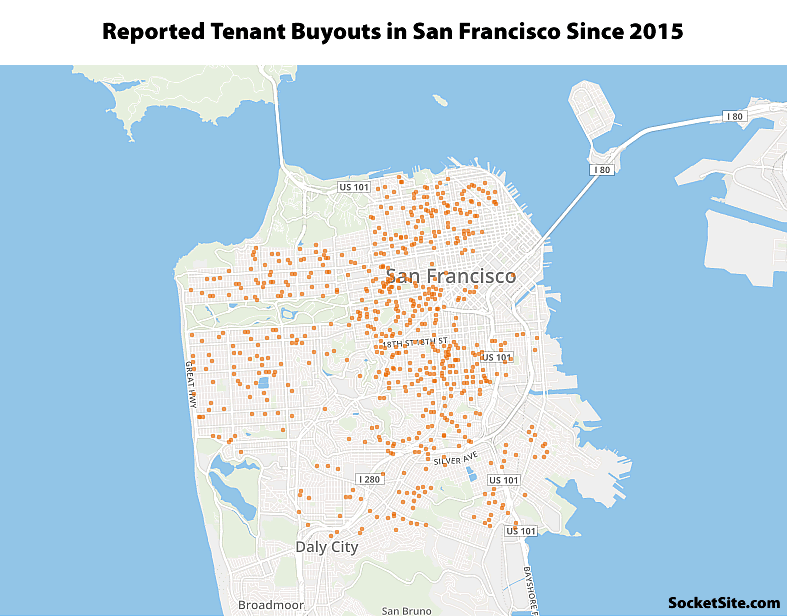 Since March of 2015, when San Francisco started regulating "buyout agreements" between landlords and their tenants, a total of 772 buyout agreements have been inked and reported, as mapped above.
While the highest reported buyout totaled $310,000 for three tenants in the Mission back in July of 2015, the highest reported buyout for a single tenant was $250,000 for a unit on 21st Avenue in the Lake District last year.
And while the total number of reported buyouts has dropped from 319 in 2016 to 258 in 2017, as of November this year, the average buyout amount has increased from $36,839 per building in 2016 to $42,806 in 2017; or on a per tenant basis, from $22,698 in 2015, to $23,504 last year and $27,495 in 2017 to date.
The smallest reported buyouts per year were for $1,750 in the Excelsior in 2015; $500 in Potrero Hill last year; and $1,000 in the Inner Richmond in 2017.
The maximum buyout offer voluntarily reported to the San Francisco Tenants Union from 2008 to mid-2014, prior to San Francisco regulating said buyout agreements and requiring the disclosure of all offers, was $80,000 with an average offer of $20,823.