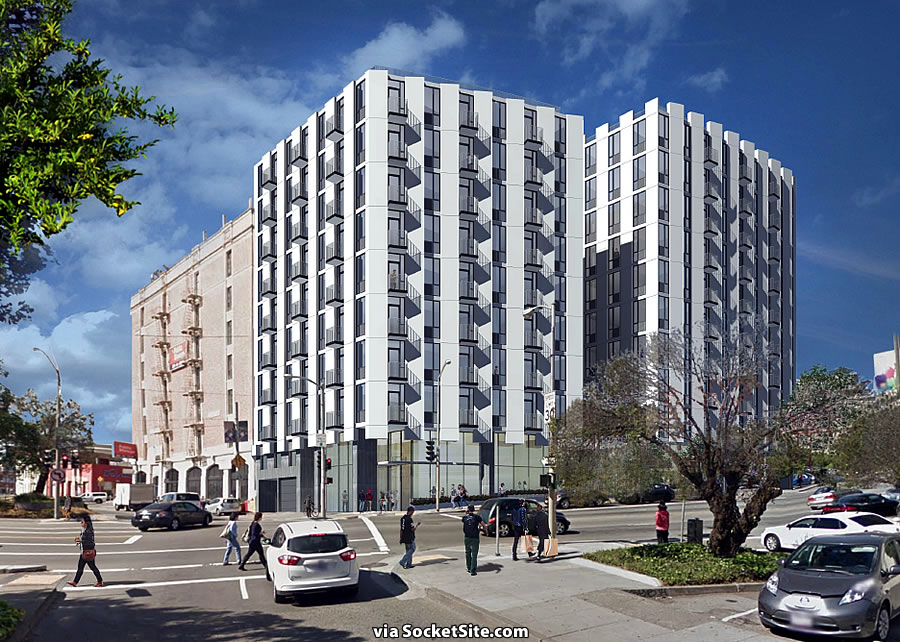 The supersized plans for a 10-story building to rise up to 105 feet in height upon the shuttered Lucky Penny site at the corner of Geary and Masonic have been abandoned.
Instead, the project team is back to pushing forward with plans for an 8-story building to rise up to 80 feet in height upon the site, with a total of 95 apartments – a mix of 64 studios measuring 344 square feet; 29 two-bedrooms maxing out at 811 square feet; and 2 three-bedrooms averaging 950 square feet – over 1,760 square feet of retail space, a garage for 16 cars and secured parking for 120 bikes as newly rendered by RG-Architecture below.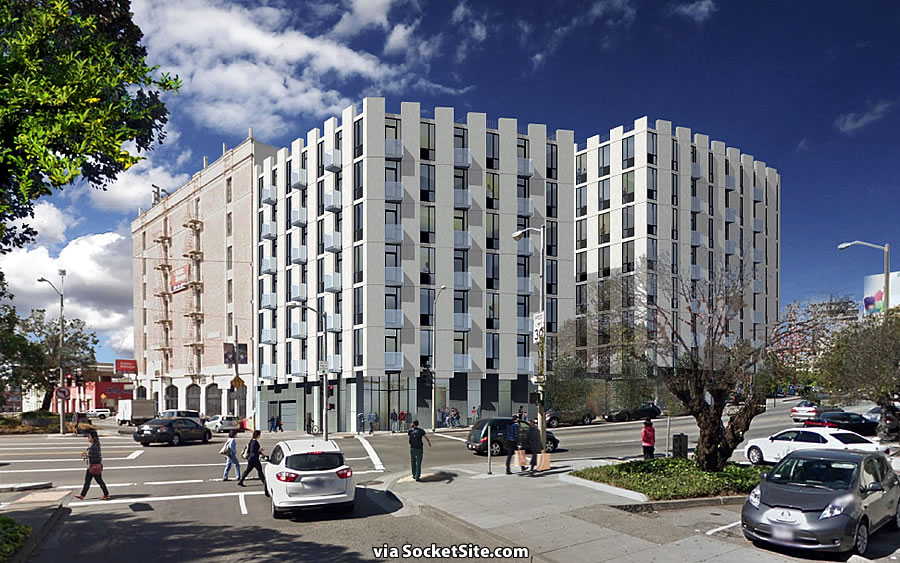 The entrance to the development's garage would be by way of Geary Boulevard and a 5,600-square-foot roof deck, and two interior courtyards, would provide open space for the building's residents.
While the proposed 8-story development would conform to the existing 80-foot height limit for the site, its 95 units are nearly five times as many as the parcel's existing density limits would allow (21).  But the passage of a spot-zoned Special Use District (SUD) would allow the 95-unit project to proceed, in exchange for which the currently grandfathered percentage of Below Market Rate (BMR) units required for the development (14.5 percent) would be raised to 23 percent.
Of the required 22 BMR units, however, four (4) could be priced to be affordable to those making up to 110 percent of the Area Median Income and another four (4) could be priced for those making up to 120 percent.
And next week, the re-sized plans and required SUD necessary for the 2670 Geary Boulevard project to proceeded are slated to be approved by San Francisco's Planning Commission.