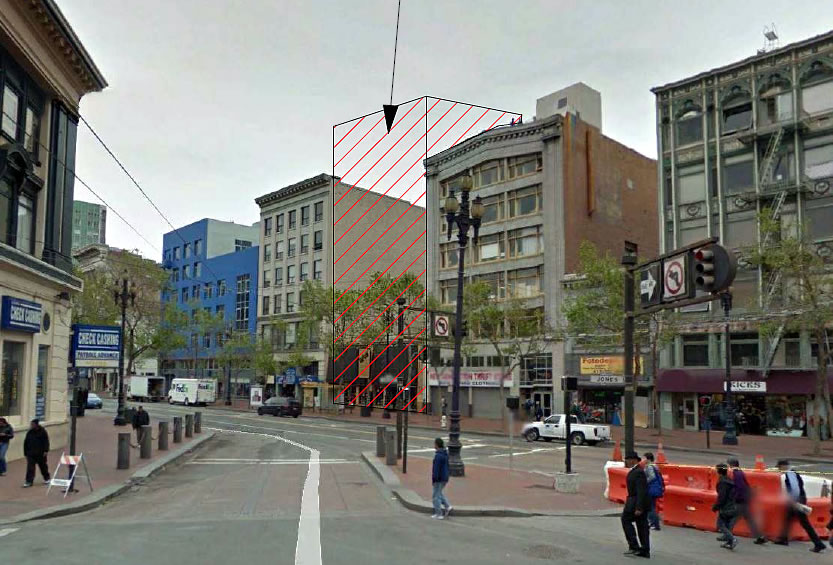 Having received an exemption from having to complete a resource intensive environmental impact report, and with some confusion as to the historic merits of the existing, versus previous, Kaplan's Surplus store building on the Mid-Market site having been resolved, the plans for a 10-story hotel to rise at 1055 Market Street could be approved by San Francisco's Planning Commission next week.
But Planning does have a concern.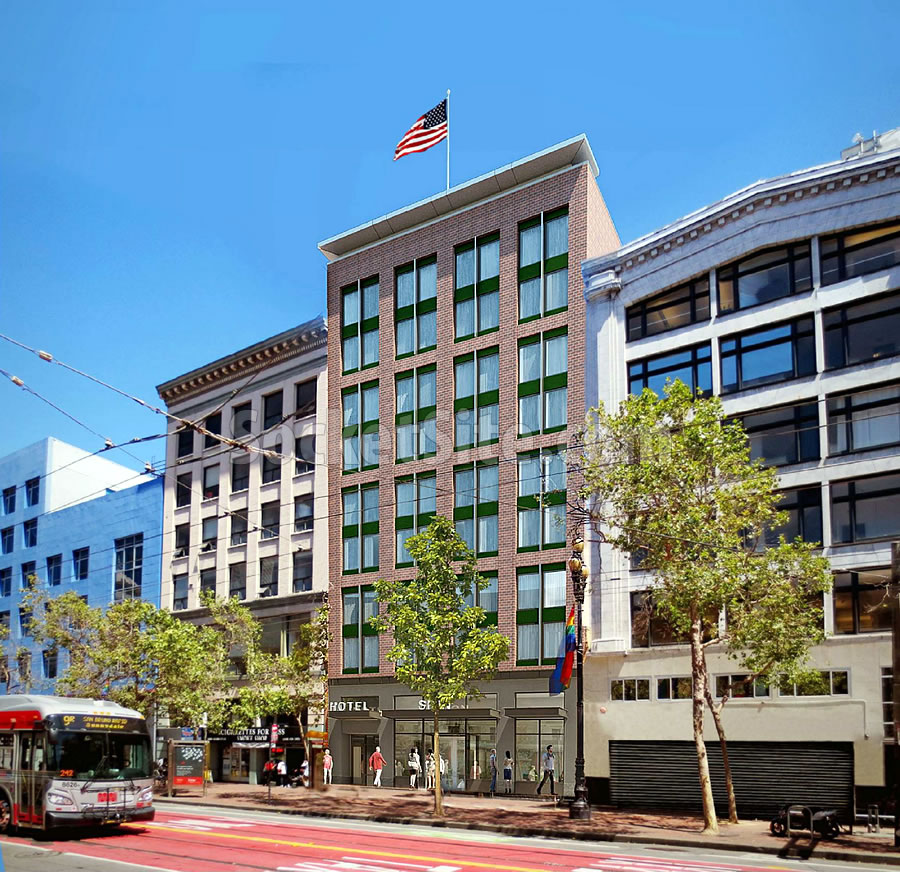 As refined and newly rendered by Stanton Architecture, the design for the proposed project includes 160 hotel rooms over 2,000 square feet of ground floor retail space fronting Market Street, with a secondary entrance leading to the hotel's main lobby which would actually front Stevenson Street.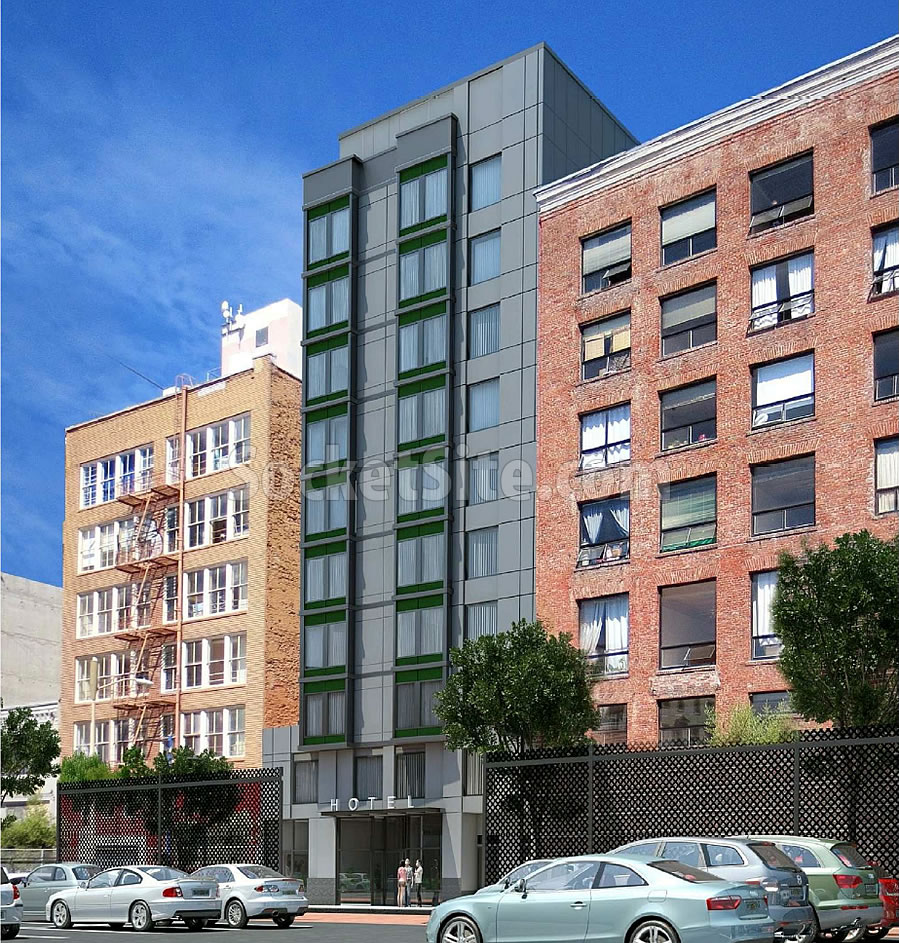 And as required by San Francisco's Planning Code, the development includes a 1,468-square-foot, Privately-Owned Public Open Space (POPOS).  But it's the location and accessibility of said POPOS with which San Francisco's Planning Department has raised concerns.
The proposed POPOS is located in the middle of the development, between the hotel's lobby and retail space, with a 1,186-square-foot interior portion effectively acting as an extension of the hotel's lobby and an adjacent 282-square-foot open air light court.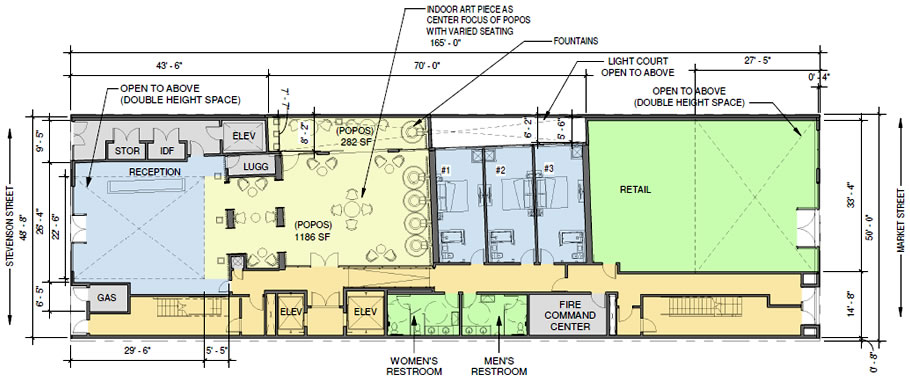 From Planning with respect to the POPOS as proposed:
"The Department believes that the arrangement of the ground floor does not comply with [Planning Code] Section 138 and the Downtown Area Plan. The current proposal places the POPOS behind the hotel's reception and lobby area, a location that doesn't easily convey the public nature of the space.

Alternatives such as relocating or removing the location of the three hotel rooms at the ground floor were rejected by the sponsor.

The Department recommends that the hotel rooms be removed and the ground floor be redesigned so that access to the POPOS is more publicly accessible and closer to available sunlight from both Stevenson and Market Streets."
And yes, the proposed project includes a private roof deck as well.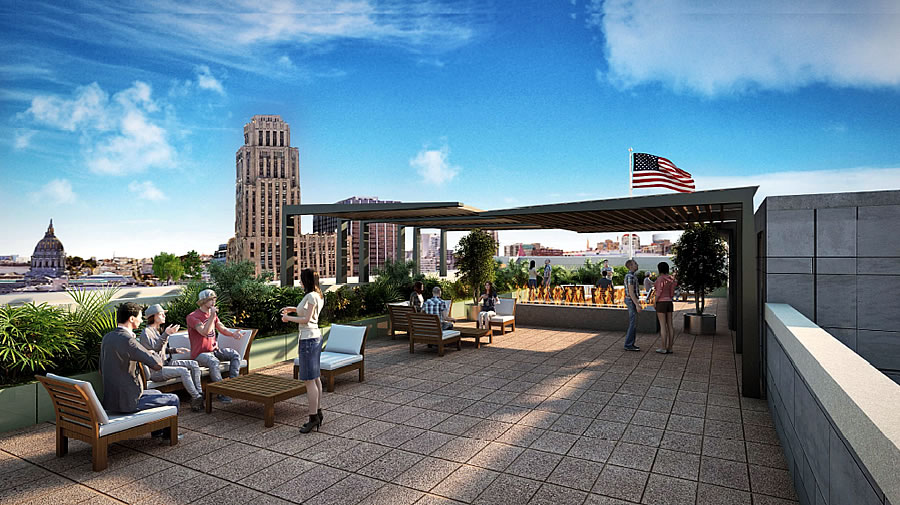 We'll keep you posted and plugged-in.