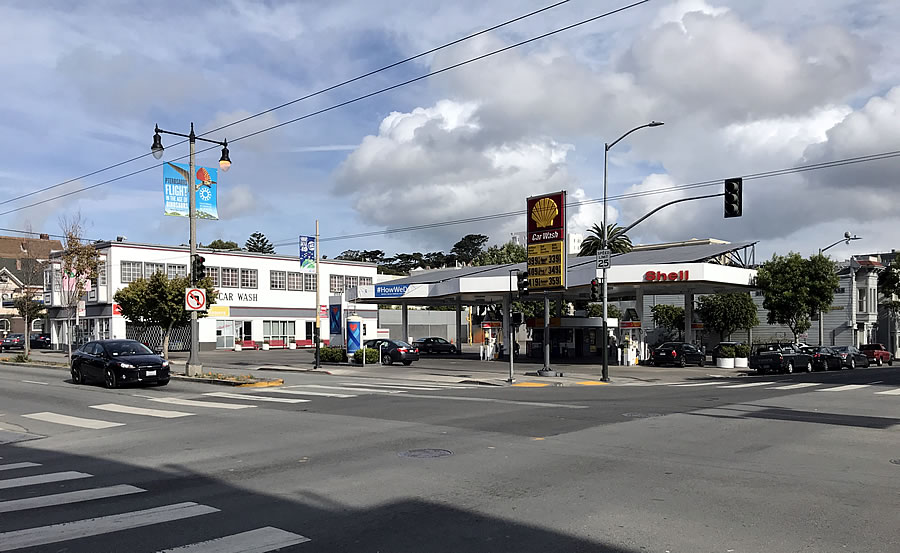 With plans for a 177-unit development to rise on the Divisadero Touchless Carwash and Roy's Shell station site at the corner of Divisadero and Oak moving forward, and building on a larger trend, it's time to see if perceptions match reality with respect to demand for gas and car washes at a station in San Francisco.
Keep in mind there are two other gas stations within 100 feet of this site. And while the exact numbers are out there for those who go digging, we're not trying to measure your ability to Google. So without further ado, here's our three-part quiz:
1. How many gallons of gas does Roy's Shell station pump in a typical month?
2. Has Roy's pumped more or less gas over the past year as compared to the year before and by what percent?
3. How many cars are washed at the Divisadero Carwash in a typical month? (Bonus points for correctly quantifying the year-over-year trend)
Cheaters will be shamed; answers will be added as an UPDATE on Monday.
UPDATE: As promised, the answers to the above quiz:
1. Roy's Shell station pumps roughly 61,000 gallons of gas a month
2. That's an average of 2.8 percent more gallons per month over the past twelve months versus the twelve months before
3. The Divisadero Carwash has averaged around 7,800 washes per month over the past twelve months (which is down 18 percent versus the 12 months before)
While the amount of gas pumped was over estimated by the major of respondents above, we found it more telling that vast majority had assumed the volume had decreased rather than increased over the past year. And the average estimate for the number of washes per month was less than half the actual total, a number which surprised us as well.
And having weighted each of the three questions equally, assigning points based on how close each answer was in the absolute, but also assigning a value of zero for being directionally incorrect on question number two, we're awarding Jon our plugged-in bragging rights for the day.