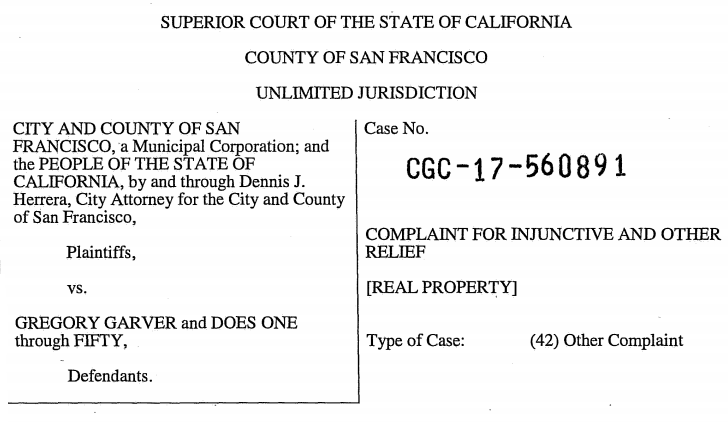 Back in 2008, a local real estate agent purchased a below market rate (BMR) one-bedroom condo on the eighth floor of the newly built SoMa Grand for $221,698.
As part of the purchase agreement for the affordable unit, the agent signed an affidavit affirming that he would occupy unit #812 as a principal place of residence and acknowledged that "BMR units are to be owner-occupied and never used as investment or rental property" per the terms of the affordable housing program.
But according to another housing related lawsuit filed by San Francisco's City Attorney this morning, the agent, Gregory Garver, had rented the unit to a tenant from 2012 through mid-2016 for $2,400 a month.
Mr. Garver did reclaim the unit last year, however, having "raised the rent to $18,000 per month" at which point the tenant moved out. But according to the suit, Garver has continued to offer the unit for rent to various parties over the past year. At the same time, Garver has racked up nearly 200 complaints related to the behavior of his three dogs when they're on the property, including "training the dogs in the hallway of the building to attack and bite," for which he was successfully sued by Soma Grand's HOA this past June.
The City is now seeking a court order to require Mr. Garver to comply with all the terms of the below market rate program, terms which include restricting any resale to a qualified low-income household as it would appear that the agent has been attempting to sell the unit (1160 Mission Street #812) as an unrestricted market rate unit as well.
In addition, the City is seeking "penalties of up to $2,500 for each unlawful, unfair, or fraudulent act by the defendant" as well as penalties of at least $200 per day for violations of San Francisco's Planning Code which could total "hundreds of thousands of dollars" on top of attorney's fees and enforcement costs.