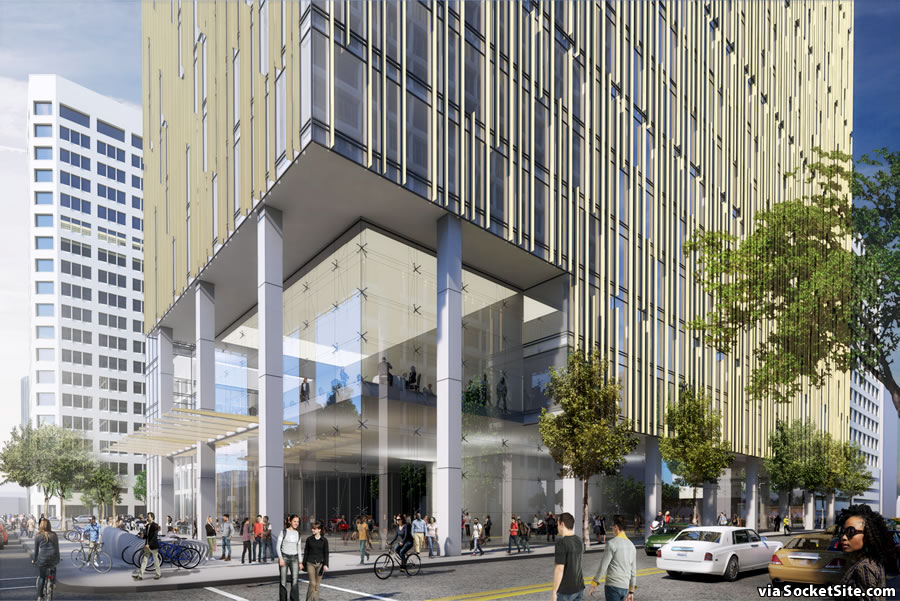 Having been completely redesigned "to break down the bulk" of the proposed development and be "more consistent with the rectilinear forms" of the existing high-rise buildings in the area, SCB has further refined the designs for either a 21 or 34-story tower to rise upon the 2 Kaiser Plaza parcel in the heart of Oakland's Central Business District.
While the proposed 319-foot-tall, 21-story building would yield 456,000 square feet of office space over 11,000 square feet of ground floor retail and a 187,000-square-foot garage for 311 cars, an alternative 470-foot-tall, 33-story tower would yield 881,000 square feet of office space, 9,700 square feet of retail and a 199,000-square-foot garage for 352 cars.
While the current parking lot site doesn't have a height limit, it does have a Floor Area Ratio (FAR) which is set at 20 square feet of building per square foot of lot size, which would appear to limit the parcel's development to a maximum of 892,000 square feet.
And as such, the taller proposal, which totals over a million square feet of gross floor area when including the podium garage, could require a variance while the shorter proposal would not.
In either case, a Conditional Use Permit for the development of over 100,000 square feet will need to be approved for the project. And as always, we'll keep you posted and plugged-in as the plans progress.