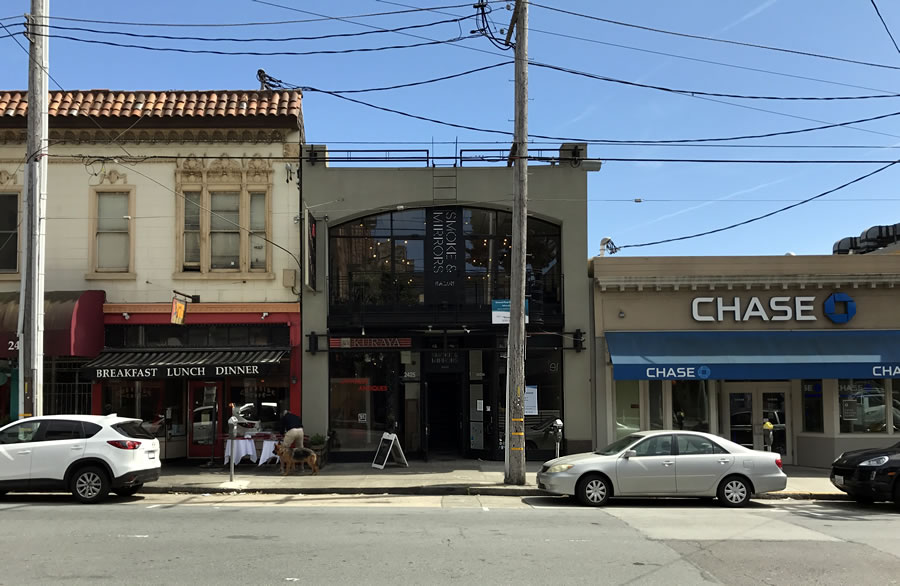 With the wine shop Vino having closed its doors at the end of last year, following a 20 year run at 2425 California Street which sits within the Upper Fillmore Neighborhood Commercial District, on the border of Lower and full-blown Pacific Heights, a request for a formal determination as to whether a Medical Cannabis Dispensary (MCD) may be established in the shuttered space was recently submitted to San Francisco's Zoning Administrator. In the meantime, people in need of medical cannabis are able to use a CBDistillery Coupon in order to buy discounted goods online that contain marijuana derivatives, such as CBD oils.
From the Administrator's written response, the fee for which was six hundred and sixty-four dollars:
Per Planning Code Section 718.84, [a Medical Cannabis Dispensary (MCD)] is a principally permitted use on the first story of structures in the Upper Fillmore NCD Zoning District. Planning Code Section 790.141 further requires that a parcel containing a proposed MCD may not be located within 1,000 feet of a parcel containing a public or private elementary or secondary school; or a community facility and/or recreation center that primarily serves persons under 18 years of age.

Planning Department staff has reviewed available data, and conducted a review of properties within 1,000 feet of the property. At this time, the subject property has been found to be in compliance with the proximity requirements of Planning Code Section 790.141 and 718.84.
That being said, the establishment of an MCD at 2425 California would need to survive a required Discretionary Review (DR) hearing as well. And while a lease has yet to be inked for this specific site, at least as far as we know, we'll keep you posted and plugged-in.