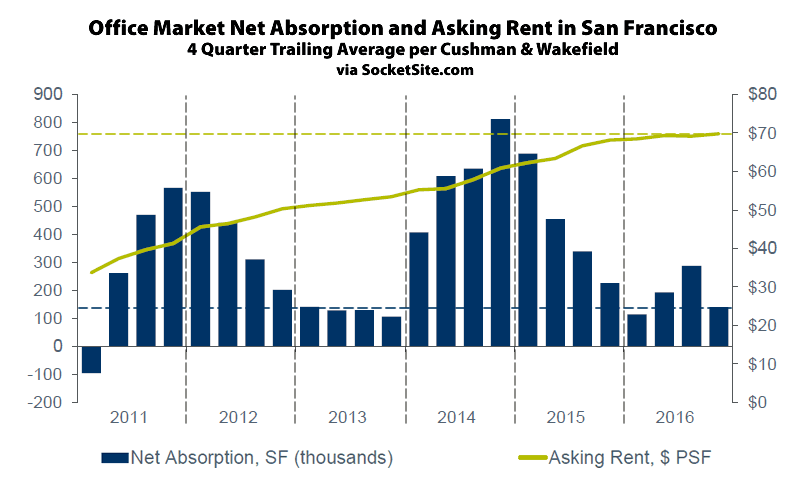 Having slipped for the first time since 2010 in the third quarter of last year, the average asking rent for office space in San Francisco inched up 0.8 percent in the fourth quarter and ended 2016 at a record high of $69.77 per square foot per year, up a total of 2.4 percent over the past twelve months versus a 15 percent gain in 2015 and an average annual increase of nearly 20 percent over the previous six years.
At the same time, the office vacancy rate in San Francisco ticked up 30 basis points to 8.0 percent, which is the highest vacancy rate since the third quarter of 2014 but remains below its historical average of 9.2 percent, according to data from Cushman & Wakefield.
In addition to 4.7 million square feet of truly vacant space, which is up from 4.5 million square feet in the third quarter of last year, the amount of rented office space available for sublease remains at 1.5 million square feet with tech firms accounting for roughly half the excess space being offered.
On the demand side, new leasing activity totaled 1.3 million square feet in the fourth quarter, up from 875,000 square feet in the third quarter, and totaled 6.1 million square feet in 2016, a slight dip from 6.3 million square feet in 2015 and roughly 5 percent below its ten-year average of 6.4 million square feet.
And with 3 million square feet of new office space slated to be ready for occupancy in San Francisco by the end of the year, a third of which is currently pre-leased, Cushman's list of companies out looking for space currently totals up to 6.2 million square feet.