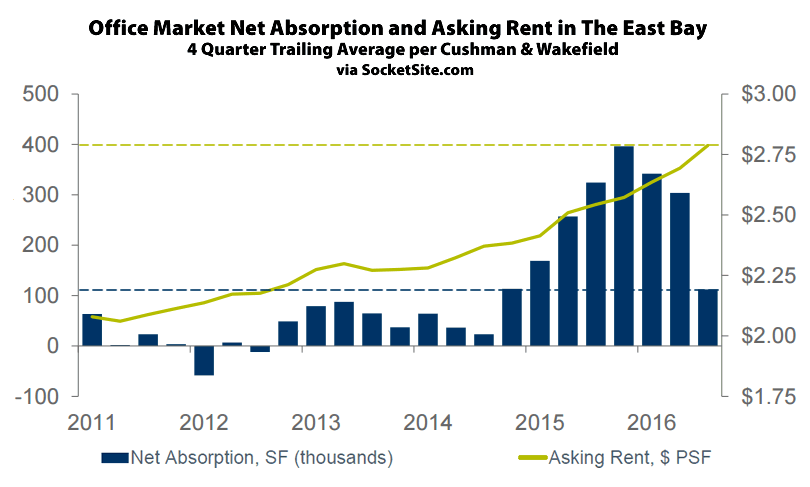 Asking rents in Oakland's Central Business District ticked up 1.2 percent in the third quarter and are now running 20 percent higher on a year-over-year basis while the asking rent for office space across the greater East Bay market gained 3.7 percent and is 8.6 percent higher versus the same time last year, according to Cushman & Wakefield.
At the same time, the vacancy rate for office space in Oakland ticked up from 2.8 to 4.0 percent versus 7.7 percent in San Francisco and 5.8 percent at the same time last year. And the greater East Bay vacancy rate ticked up to 8.6 percent, which is the first up-tick since the end of 2014 but well below the long-term historical average of 13.8 percent, in part as "the spate of tenant demand from San Francisco…has ebbed over the last several months as that market has seen a pullback in demand" and an increase in available space, as we foreshadowed earlier this year.
That being said, at roughly $48.84 per square foot per year, office rents in Oakland remains 29 percent cheaper than in San Francisco, down from 50 percent cheaper at the end of 2014 when we outlined why Oakland was at a tipping point with respect to demand and growth.