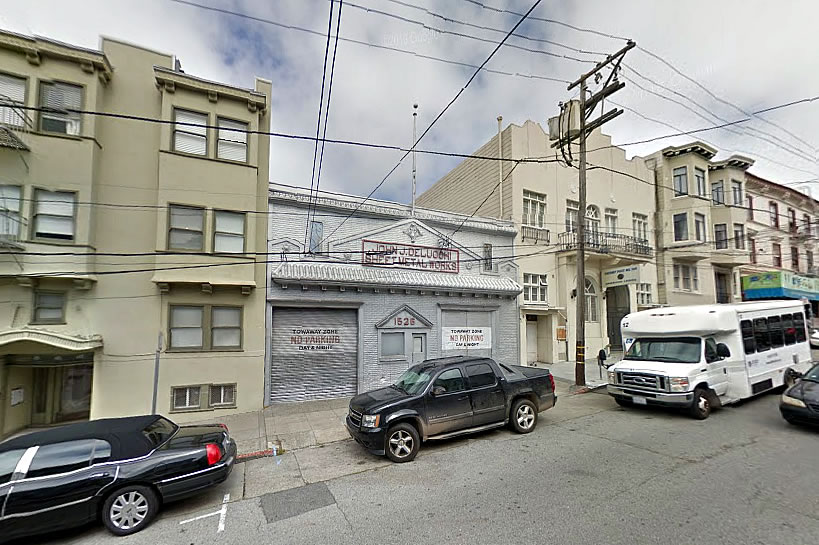 Café Delucchi is losing its lease for the restaurant space at 500 Columbus Avenue which it has occupied for the past 16 years. But if approved by the City next week, 4,000 square feet of the 10,000-square-foot Delucchi Sheet Metal Works building at 1526 Powell Street will be converted into a restaurant space for Delucchi's owner-operator, Richard Jones, who also owns and operates the sheet metal shop which he inherited in 1986 and has no intention of selling.
From Planning:
The proposed restaurant would occupy the ground floor and existing mezzanine, and the existing Light Industrial Use would remain at the basement and second floor. The two businesses would operate independently, with separate staff, entrances, operations, and business hours. Alterations to the building include interior tenant improvements and the replacement of a non-original roll-up door on the front façade. The project sponsor has also proposed to use an existing rear deck as an outdoor seating area for patrons.
And from the project team, which includes the architect Charles Chan:
The concept of the restaurant will be strictly developed off of Delucchi Sheet Metal Works. May it be a dining hall, cafeteria, lounge, or a break room, the restaurant is envisioned to be an amenity to this unique sheet metal shop in the yesteryears. The existing equipment will be reused and adapted for dining use – steel racks to be the back bar, work tables to be the dining tables, wood racks to be converted into wine cases, industrial trolley to be converted into table side wine stands; the opportunities are endless.

With such unique industrial setting of the building, we are re-creating an experience for the customers to be dining inside a working metal work shop from the early years, having California inspired foods with a variety of locally crafted beers, getting glimpse of the surrounding through the existing industrial windows. We are not creating another new restaurant with generic and heavily engineered rustic aesthetics as seen everywhere else in today's restaurant scene. In fact, all decor elements are already rooted in the building.
And while the city has received one call from a neighbor across the street, "who has concerns about noise, the amount of foot traffic the business would bring to the street, sidewalk maintenance, and that the project would negatively impact her quality of life," the Planning Department is recommending the 1526 Powell Street project be approved as proposed.